Silk is one of many brands of soy milk commonly consumed by vegetarians, vegans and people who are lactose-intolerant. Although soy milk is packed with nutrients and is similar in nutrition content to cow's milk, it may not be the right choice for everybody. The benefits of drinking soy milk often outweigh any potential drawbacks, however.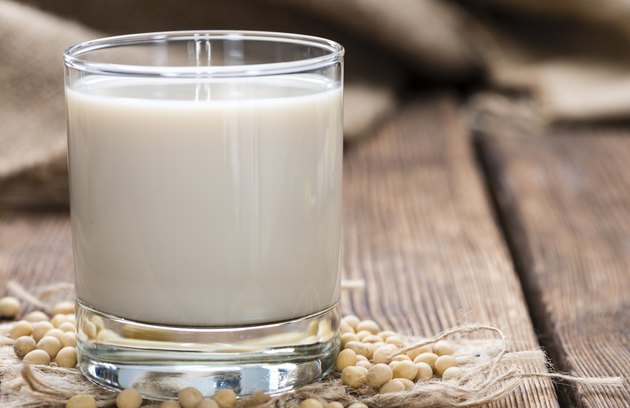 Caloric Content
The caloric content of Silk soy milk varies by flavor, but soy milk is not a high-calorie beverage, which is useful when trying to achieve or maintain a healthy weight. A cup of plain, Silk soy milk contains just 100 calories. In comparison, a cup of plain Silk light soy milk provides just 70 calories, which is less than skim cow's milk. If you choose vanilla- or chocolate-flavored Silk soy milk, you'll get 129 and 141 calories, respectively, per cup.
Nutritional Perks
Packed with protein, and often fortified with essential vitamins and minerals, plain Silk soy milk is a viable alternative to drinking cow's milk. One portion, or 1 cup, of soy milk provides 7 grams of protein, 4 grams of fat and 8 grams of carbohydrates -- including 1 gram of dietary fiber. Unlike cow's milk, the fat in soy milk is from heart-healthy, unsaturated fatty acids, and Silk soy milk is cholesterol-free. Plain Silk soy milk is also an excellent source of calcium, potassium, vitamin A, vitamin D and B vitamins. Some varieties of Silk soy milk are fortified with additional fiber or essential omega-3 fatty acids.
Health Benefits
Drinking soy milk regularly may provide you with some health benefits. Oregon State University reports that soy consumption may help reduce levels of low-density lipoprotein, the "bad" cholesterol, and may help stimulate bone formation. New York University Langone Medical Center also suggests that soy helps lower LDL cholesterol, may possibly be useful to help treat or prevent prostate cancer and could help reduce some symptoms of menopause, such as hot flashes.
Potential Concerns
Although soy is packed with nutrients and may provide you with several health benefits, not much is known about the long-term safety of consuming high amounts of soy, according to Oregon State University. NYU Langone Medical Center notes that isoflavones, which are compounds in soy, are similar to the female hormone estrogen. This means that large amounts of soy have the potential to alter menstrual cycles and sex hormones in women, stimulate breast cancer cells and increase a woman's risk for developing uterine cancer.