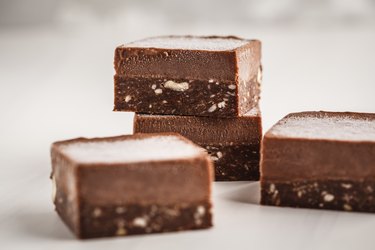 Many people claim that there's no dessert quite as tasty as sweet, decadent, mouthwatering chocolate fudge. Chocoholics love the flavor, of course, but it can be expensive to buy at the store. The good news is that you can make your own fudge with cocoa powder, sugar and milk.
Tip
To make fudge at home, melt a combination of sugar, cocoa powder, milk and salt in a medium-sized saucepan and heat to a temperature of 234 degrees Fahrenheit. Add butter and vanilla extract and let cool until lukewarm (110 F); then beat with a wooden spoon before pouring it into a greased 8-by-8-inch baking dish. Let it cool for several hours before cutting and serving.
The Fudge Phenomenon
When it comes to fudge, it's all about the consistency. There's something so special about that perfect melt-in-your-mouth texture that has everyone swooning, especially over the holidays. But where did fudge come from in the first place?
As it turns out, fudge dates back to the 1880s in the city of Baltimore where the first batch was made. By the turn of the century, this delicious confection method made its way to Mackinac Island on the northern tip of Michigan. To this day, Mackinac Island is known as the fudge capital.
While there are a range of ingredients used to make fudge flavors and varieties of all kinds, the underlying process is really quite simple. You typically start by melting a combination of sugar, butter and dairy and then adding in flavors of your choice like cocoa, white chocolate, peanut butter, maple syrup, nuts and more. But the real secret to success lies in the exact melt temperature and the cooling process that follows.
Easy Chocolate Fudge Recipe With Cocoa Powder
Sometimes, less is more. A simple six-ingredient recipe using Hershey's cocoa goes a long way.
Take out an 8-by-8-inch baking pan and line it with foil, extending the foil over the edges.
Butter the foil and set aside.
In a medium saucepan, combine 3 cups sugar, 2/3 cup Hershey's cocoa powder (or another brand of your choice) and 1/8 teaspoon salt; stir in 1 1/2 cups whole milk.
Cook over medium heat, stirring constantly, until contents come to a full boil.
Let boil, without stirring, until your mixture reaches a temperature of 234 F, or what's known as the "soft-ball stage" of confectionary.
Remove from heat and add 1/4 cup of butter and 1 teaspoon of vanilla extract — avoid stirring.
Cool at room temperature until your mixture reaches 110 F.
Beat with a wooden spoon until the candy loses some of its gloss and begins to thicken.
Pour into the baking pan and set aside for several hours until it has cooled completely before cutting and serving.
Tip
It's called the "soft ball stage" because if you were to take a drop of the mixture and put it into a glass of cold water, it would form a ball that feels soft to the touch.
Chocolate Chips vs. Cocoa Powder
According to the United States Department of Agriculture, a 1-cup serving of milk chocolate chips has approximately 899 calories. Alternatively, a 1-cup serving of cocoa powder has a mere 198 calories. Cocoa is also much lower in fat than chocolate chips and is a rich source of fiber, which the Mayo Clinic says is key to a healthy diet. Cocoa retains a large number of antioxidants, as well, which are excellent for your heart, skin, blood pressure and even your stress levels.
And if you're really aching for those chocolate chips instead, don't stress. A July 2017 study published by the journal Nutrients concluded that any chocolate intake, in moderation (six or fewer servings per week), is associated with decreased risks of coronary heart disease, stroke and diabetes.