Snapping, cracking and popping are noises you might expect to hear from your morning bowl of cereal, but not during or after a workout. Most of the time, elbow cracking or popping sounds are simply normal sounds associated with movement. Cracking or popping elbows usually do not require treatment, but if the sound is accompanied by pain or swelling, seek medical evaluation before you resume exercise.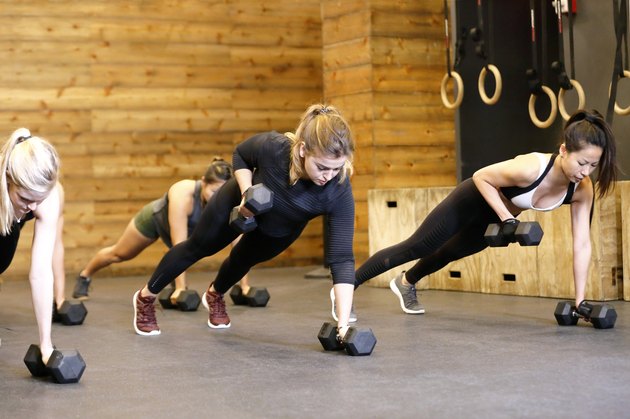 Elbow Popping and Cracking
When working out, you might hear just one elbow crack or pop, or several in succession. Other joints, such as your ankles, knees and neck, might also make cracking or popping noises during a workout. Your elbow might feel stiff or "locked up" before the cracking noise occurs and then normal after the cracking noise stops. In some cases, the cracking or popping noises from your elbow might be accompanied by additional symptoms such as extreme pain, bruising and distortion of the elbow joint.
Release the Pressure Valve
A buildup of gasses in the synovial fluid in your elbow joint can cause cracking or popping sounds after a workout as the pressure in the joint is released by flexing, stretching or moving it. Popping or cracking of your elbow can either result from friction as your bones, tendons or ligaments rub together or if there is a loss of cartilage, which happens if you have elbow osteoarthritis. This condition is often accompanied by a painful grinding in your elbow and progressive loss of elbow range of motion.
Normal Elbow Cracking?
Elbow cracking or popping sounds caused by the buildup of gasses in the synovial fluid do not require any special treatment. They are a normal side effect of moving your joint during a workout. If you have osteoarthritis, you might consider taking an anti-inflammatory medication such as ibuprofen before working out, or doctors might prescribe a corticosteroid to reduce swelling that causes bones in the elbow to rub together and make noises.
Alternative medicine practices such as chiropractic treatments and acupuncture might help reduce elbow cracking from working out, although if you are considering alternative medicine treatments first seek your physician's approval.
Traumatic injuries to the elbow, such as fractures or dislocations, can result in popping and cracking. If the cracking elbow results from a dislocation of the joint, doctors often prescribe pain relievers and muscle relaxers before realigning the bones. You might require surgical treatments for damaged ligaments, nerves or blood vessels or fractured bones related to dislocated elbows. Surgery is followed by physical therapy to improve motion and strength before you resume upper body workouts.
Stretch and Warm Up
Stretch your arms before and after upper body workouts to help prevent painful strains or other injuries that cause elbow cracking or popping. Perform five to ten minutes of an upper body warm-up, such as an arm bike, to increase blood flow to your elbow joints and muscles prior to elbow strengthening exercises.