Baking salmon in aluminum foil allows for a more flavorful meal and easy cleanup. This technique traps the moisture inside the foil to prevent the salmon from drying out. This technique also allows you to bake different flavors into your salmon. There are a number of ways to bake salmon in foil: You can infuse your salmon with lemon, orange, various herbs and vegetables for a richer flavor.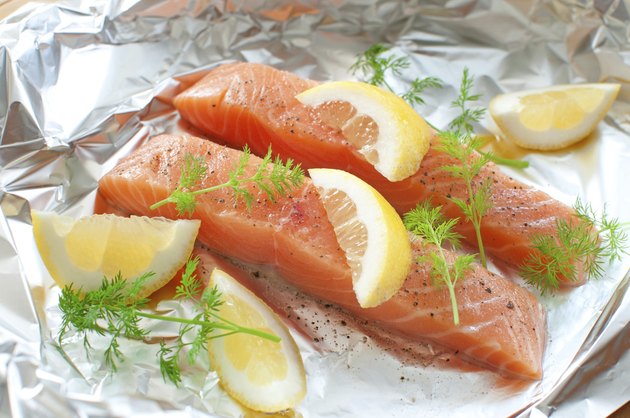 Step 1
Preheat the oven to 400 degrees F. Place portions of salmon in the middle of a square piece of foil. Be sure to use enough aluminum foil to wrap around the entire piece of salmon.
Step 2
Drizzle 1 to 2 tbsp. of olive oil on top of the salmon while in the foil. Season as you like with salt, pepper, basil, oregano, garlic or your favorite spices. You can also bake vegetables such as onions, squash and tomatoes inside the foil with the salmon for a richer flavor.
Step 3
Garnish with a lemon or orange slice to allow the citric acid to enhance the flavor.
Step 4
Fold the edges of the aluminum foil over the salmon so that it is fully wrapped. Bake for approximately 15 minutes or until the salmon is fully cooked.
Tip
Try sprinkling 2 tbsp. of white wine onto the salmon before baking to enhance its flavor.
Warning
You may need to place the pieces of foil filled with salmon on a baking sheet to prevent juices from spilling from the foil onto the bottom of your oven.