Although the majority of Americans who exercise do so because they want to lose weight, bodybuilders and some other athletes will exercise for the exact opposite reason. Muscle mass improves performance in some sports and looks attractive on some frames. Resistance exercises are the best workouts for putting on mass, but pushups are not the best kind of resistance exercise for maximal results.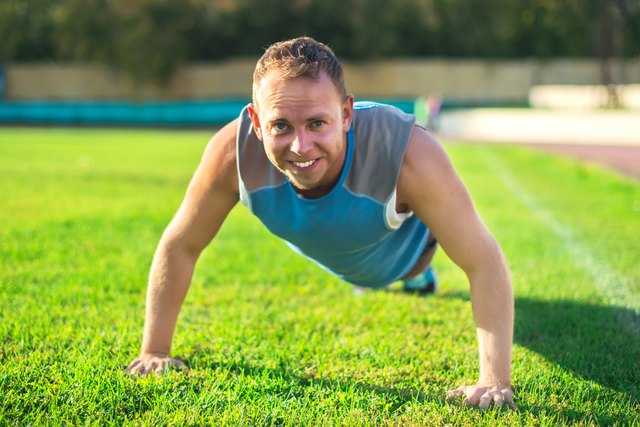 Weight Gain Basics
Gaining weight works through the same mechanics as losing it: by creating a caloric imbalance. To gain weight, you must create a positive imbalance by eating more calories than you burn via activity. Resistance training is an important part of this process because it stimulates your body to put on the weight as muscle mass, rather than as fat.
Pushup Basics
Pushups are a well-known body weight exercise. To do a pushup, you lie face down on the ground with your feet on your toes and your palms on the ground just beside your chest. Extend your arms to push up your body until your arms are extended. Lower yourself back toward the ground to begin the next repetition. Your body weight provides the resistance for this exercise, forcing the muscles in your arms and chest to work harder than they do under normal circumstances.
Exercise and Weight Gain
Gaining weight through exercise works because resistance exercise causes microscopic tears in your muscle fibers. As your body repairs that damage, the fibers grow back thicker and stronger. Exercises at heavy weights with low repetition create better weight gain results because they cause more damage to the muscles.
Pushups and Weight Gain
Pushups are a powerful strength-building exercise, but are at a disadvantage when it comes to gaining weight because the maximum weight for pushups can only adjusted minimally with decline pushups and wearing a weighted vest for example; and is almost always too low to provide the heavy loads necessary for strong gains in mass and bulk.
Pushing Up -- Not Bulking Up
How much weight you can gain with any exercise program depends as much on your diet and your commitment as it does on the program you choose. However, pushups don't provide enough load to promote rapid weight gain. They perform better than calisthenics, such as jumping jacks, but worse than most weight training programs.