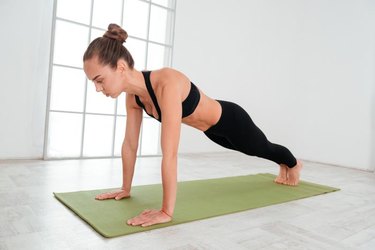 Fitness experts and physiologists alike are writing a eulogy for the traditional crunch, once a mainstay ab exercise. Alternatives such as the plank exercise are stationary, keeping your body stable and eliminating the back pain issues associated with a traditional crunch. As experts shift to these more holistic ab workouts, variations of the standard plank have been developed that can push your workout to new heights.
Building Strength
Stationary exercises like the plank build muscle that prepares you for real-world strength tests such as lifting, hauling, pulling or dragging. Unlike a sit-up, a plank engages multiple muscle groups, including your rhomboids and trapezius in your upper back, your transverse abdominis, your rectus abdominis — the six-pack of muscles in your abs — your obliques and even the abductors in your upper thigh.
The Basic Plank
The plank is a deceptively simple exercise. Start by lying flat on your stomach, with your palms down and at your side. Then, press upward in the same motion as a pushup, bringing your hips and torso off the floor. Make sure your legs, back and shoulders in a straight line. Hold this position for one full minute, or as long as you can manage without shaking or collapsing. The plank pose engages your core, and the longer you can hold the pose, the better the workout.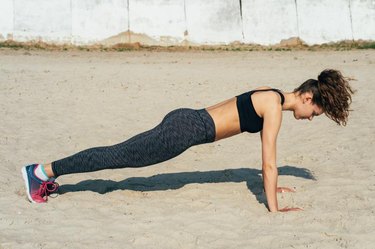 For even greater strength-building potential, try a plank variation that expands on the basic move and push your abdominals to the limit. Like the plank, these moves are usually stationary and focus on a held position. Variations help to engage different muscles in your core.
The Side Plank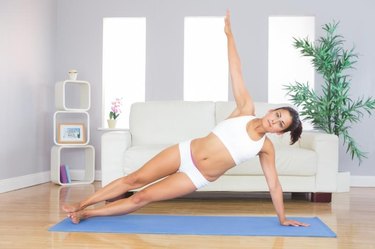 The side plank better engages your obliques, or side muscles, for an even more intense pose than the traditional plank. To perform a side plank, start in the plank position, and then rotate your body so that you're resting on one side of your feet. Keep one arm on the ground, either resting on your elbow or on a flat palm with your arm straight. Point your other arm straight into the air, and keep your hips, back, and shoulders aligned as straight as you can. Hold this pose for a full minute, or as long as possible without shaking or collapsing.
The Bird Dog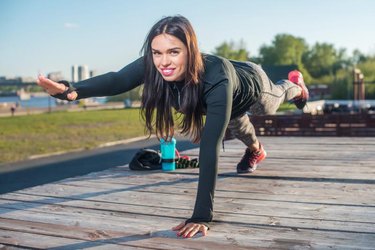 The bird dog helps develop your balance and your core. It challenges you to lift your arms and legs, alternately, for the duration of the exercise. Start in the plank position, and lower your knees to the ground. Then, alternately lift one arm and the opposite leg for five seconds. Bring them slowly back to the starting position, and then repeat with the opposite arm and leg. Repeat this for up to one minute, or as long as you can without shaking or collapsing.
Tip
For even better results, you can string multiple variations of the plank together into a workout routine, keeping your muscles engaged in new ways over the course of your workout session.
Warning
Over-exercising or attempting challenging positions beyond your comfort level can result in painful abdominal injuries. Always consult your physician or a physiotherapist if you think you've sustained an injury while exercising, and build plenty of rest and recovery time into your workout routine.