Regular exercise can help you strengthen and tone your leg muscles, helping to relieve fatigue and providing a way to tone and shape your lower limbs. However, if tired, heavy legs are a symptom of a medical issue, too much exercise can make this condition worse. Start your leg exercise routine gradually and contact your doctor if you have symptoms that accompany leg fatigue, such as twitching, pain, discomfort or weakness.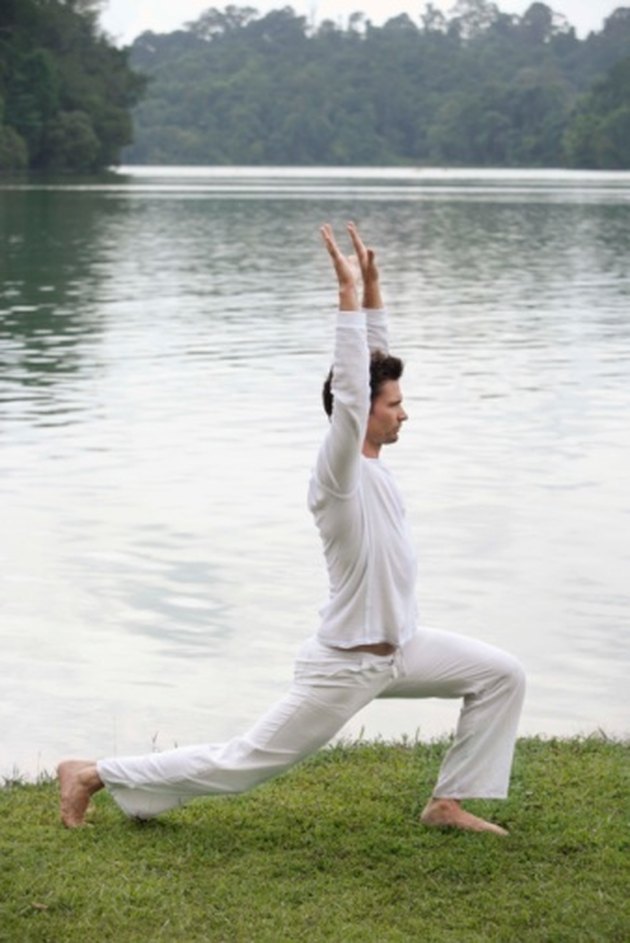 Sitting Exercises
Sitting exercises are a good way to begin an exercise routine, especially if you have a chronic illness or haven't exercised in a long time. Sit with your lower back against the back of a wooden chair and straighten one leg. Keep your spine straight and your face forward. Hold the position for three to five seconds, then return to your starting position. Repeat the movement with the other leg. Perform 12 to 15 repetitions with each leg or as many as you can comfortably complete. This movement focuses on building and toning the muscles in the fronts of your thighs. Still sitting, you can mimic the motion of marching in place by lifting one foot off the floor, raising your knee and after lowering it, repeating on the other side. Do as many as you can.
Standing Exercises
Standing while using a chair or other object for support also provides an easy way to start strengthening your legs. Begin strengthening your calf muscles by standing with your feet flat on the floor and holding the back of a chair with one hand. Keeping your knees straight, slowly lift your weight onto the balls of your feet by bringing your heels off the floor. Hold your position while you take two to three deep breaths, then return your heels to the floor and relax. Try to complete 12 to 15 repetitions of this movement. Also hold onto the chair while you perform mini squats and hip abductions -- raising your leg out to the side.
Workout Routines
As you begin to develop strength and stamina in your leg muscles, you can begin performing exercises that are more strenuous. Resistance exercises that focus on building and toning your legs include squats and lunges. Aerobic exercises that burn fat and help you control your weight are also useful for trimming and shaping your legs. Jumping rope, walking briskly, swimming laps and bicycling all help strengthen your leg muscles while encouraging your body to burn fat for fuel.
Stretching
Stretching your legs will alleviate fatigue. Try yoga positions like the Seated Forward Bend and Head-to-Knee pose. Sit on an exercise mat or rug with your legs out-stretched on the floor for the Seated Forward Bend. Flex your feet and reach toward your toes with your hands, keeping your back flat and your head in line with your neck. If you cannot reach your toes, slide your hands along your legs and stop before the point of pain. Hold the pose for up to one minute. Stretch one leg at a time for Head-to-Knee pose. Sit on your mat with your legs out-stretched and place the bottom of your left foot against your right inner thigh. Let your outer left leg lie on the floor. Reach forward with both hands to try and grasp your right foot. As with Seated Forward Bend, only stretch forward as far as you can. Hold for up to 30 seconds and repeat on the other side.