Whether you enjoy getting dressed up and hitting a dance club on the weekend or would prefer cranking up the tunes on your living room stereo and dancing in private, this exercise can play a role in weight loss. Don't expect to see results after an evening of dancing, however. Successful weight loss isn't an overnight phenomenon, and you'll get results only through regular exercise and a reduction in your caloric intake. Always consult your doctor before beginning any new exercise regimen.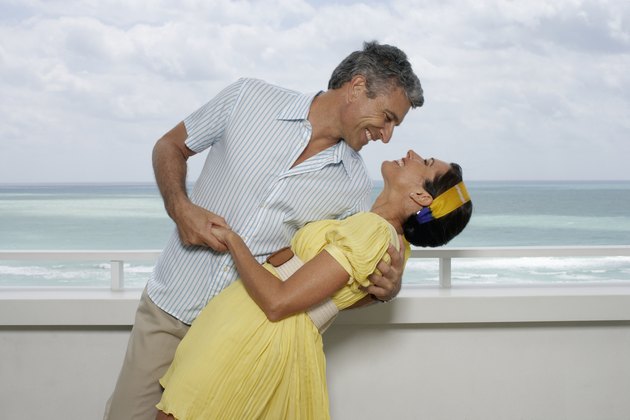 Choose Your Dance Steps
The length of time you should devote to dancing each week to help you lose weight depends significantly on the type of dance you enjoy. Up-tempo dancing burns calories much quicker than slow dancing, which means you won't have to spend quite as long if you enjoy fast dancing. According to Harvard Health Publications, dances such as the waltz and foxtrot burn calories slowly, while disco, ballroom and square dancing burn calories quicker. Ballet and twist burn calories even quicker.
Set Aside a Few Hours
Adults should always strive to get at least 2.5 hours of mild cardiovascular exercise on a weekly basis. For weight loss, however, it's typically necessary to double your amount of weekly exercise to 5 hours. When setting time aside for your dance workouts, consider your preferred form of dance. If you plan to get all your exercise through fast dancing, 2.5 hours are often enough to get the results you desire.
Don't Forget Strength Training and Diet
Dancing several days a week can burn a vast quantity of calories, but a couple other lifestyle changes can increase your ability to lose weight. Strength training at least twice a week is important to strengthen your body and boost your metabolism. Although dancing strengthens your muscles to a point, exercises such as weight training and body-weight exercises count toward your strength-training guideline. A proper diet also increases your chance of weight loss. Eliminate unhealthy items, such as foods high in sugar and saturated fats, from your diet. Consume small-portion meals loaded with healthy items such as vegetables and lean protein.
Healthier Body and Mind
When you dance several times a week, you're not just burning fat to lose weight. This form of exercise provides such benefits as better cardiovascular health, resilient bones and muscles and improved balance and coordination. Dancing also contributes positively to your mental health. Dancing improves your memory and, as you dance, you'll often forget about the stresses of the day. Improving your body can also lead to increased self-confidence.