Beef shoulder, also called beef clod and beef chuck, refers to the shoulder and neck region of the cow. Because this area contains a significant amount of muscle, fat and gristle, it renders some of the most inexpensive yet flavorful cuts of meat. The shoulder also produces the toughest cuts, such as flat-iron roast and chuck steak. While these cuts of beef are too chewy to broil, grill or oven-roast, they are flavorful and become tender when slow-cooked in moist heat. This makes the slow cooker ideal for cooking a beef shoulder.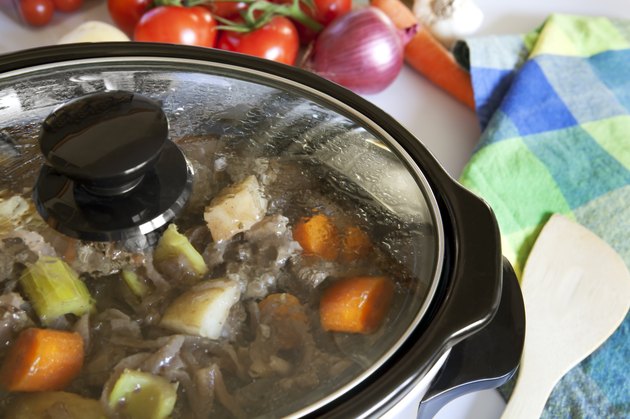 Step 1
Thaw the beef overnight in the refrigerator, if frozen. Otherwise, take the beef out of the refrigerator to allow the meat to come to room temperature, about 30 minutes. Remove it from its packaging, and place it in your slow cooker.
Step 2
Peel the onion, and cut it into quarters, then cut each quarter in half. Place the onion pieces on top of the meat.
Step 3
Place the baby carrots in a colander and rinse under cold, running water; drain well. Toss the carrots into your slow cooker, spreading them around the sides of your beef.
Step 4
Scrub your potatoes under water; pat dry. Cut away blemishes on the skins. Chop your potatoes into 2-inch chunks and add them to the slow cooker, distributing them around the meat in the same way you did the carrots.
Step 5
Season your meat and vegetable with salt and pepper to taste. Place the bay leaves on top.
Step 6
Pour the beef broth over the meat and vegetables. The meat will produce natural juices as it cooks, but if you prefer more juice, add more broth or other liquids.
Step 7
Put the lid on you slow cooker, and cook the beef on Low for eight to 10 hours, or until the vegetables are tender and the meat registers an internal temperature of 160 degrees F.
Things You'll Need
2- to 3-lb. cut of beef shoulder

1 large onion

1 1/2 cups baby carrots

4 potatoes

Salt and pepper

3 bay leaves

1-cup beef broth
Tip
Yellow-fleshed potatoes are best to use for slow roasting, such as Bintje, Yukon gold, or yellow Finnish varieties (Reference 4). Red potatoes, also called new potatoes will also work.
Nicolette M. Dumke, author of "Cooking 101: The Beginner's Guide to Healthy Cooking," suggests adding Marsala or another red wine. Consider also adding tomato paste, ketchup or a can of stewed tomatoes before cooking.
Warning
Use caution when transferring the beef from the slow cooker to a serving platter.