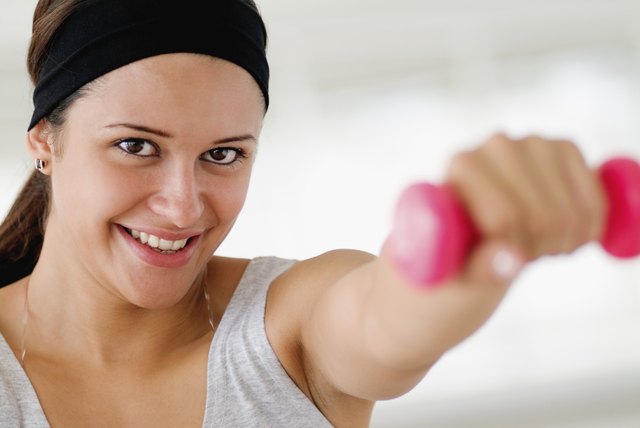 Well-defined arms are not only functional for daily activities such as lifting but also make you look good in your short-sleeved tees. However, excess muscle mass can create bulky looking, heavy arms which may not be the type of physique you desire. Luckily, you can slim down 'muscle-y" arms while still maintaining healthy muscle mass for a leaner, toned upper body .
Step 1
Change your strength-training routine so that you are lifting lighter loads for more repetitions versus heavier loads at low reps. Columbia Health's Go Ask Alice states that cutting back on heavy weights will reduce muscle mass. She suggests lifting 50 to 75 percent of your one-repetition maximum, the max amount you can possibly lift, and completing 15 to 20 repetitions for three sets of each exercise.
Step 2
Remove exercises that target specific muscles in the arms. Isolating individual muscles increases the muscle mass of the isolated muscles and leads to collectively larger arms overall. In contrast, compound movements train the larger muscle groups together in one exercise and can maintain healthy muscle mass versus adding bulk. Avoid triceps kickbacks and deltoid front raises in favor of the chest press which works the triceps, deltoids and pectorals all in one.
Step 3
Change your diet to lose bulky and/or unwanted muscle mass. A diet that is high in protein promotes muscle growth since protein aids in the growth, repair and maintenance of muscle. Decrease excess protein by cutting out protein shakes after your workout in favor of a serving of nuts with chopped fruit. The nuts have less protein and calories than most muscle-bulking protein powders but a healthy dose of fiber and healthy fats to keep you full and satisfied. Also, decrease your daily caloric intake since excess calories overall can lead to weight gain all over your body, including your arms.
Warning
Consult with a health professional prior to initiating any diet or exercise regimen that could adversely affect your current medical status.