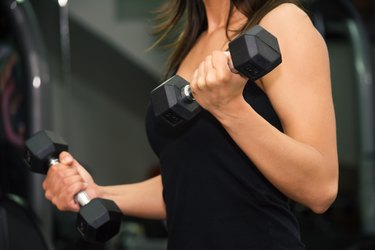 Many exercisers, especially women, are hesitant to do too many arm exercises for fear of gaining bulky muscle mass. If you want to tone your arms without the bodybuilder look, high-repetition, low-weight resistance exercises are the key. There are several exercises that tone but don't bulk up each part of your arm if you use low-weight rather than heavier dumbbells.
Tip
Don't let the fear of "bulking up" scare you away from weight training. Use lower weights at high repetitions to tone your arms.
Move 1: Biceps Curl
Activity
Dumbbell Workout
Lightly grip the dumbbells in each hand. Let your arms hang by your sides, elbows straight and palms facing in.
Raise your right arm slowly, rotating your forearm as you lift. Your forearm begins the exercise facing your hip, but as you lift, it should begin to turn clockwise until it meets your biceps. Your palm should be facing your shoulder.
Lower your right arm to its original position. Repeat on the left side.
Tip
Choose weights that are heavy enough to be challenging, but light enough that you can do 15 to 20 curls on each side and still feel able to do at least five more.
Move 2: Dumbbell Triceps Kickback
Activity
Dumbbell Workout
With a dumbbell in each hand, stand with your feet shoulder-width apart and hinge your hips back, maintaining a straight spine. Your upper body should be at a 45-degree angle to the floor.
Bring your arms to your sides, pretending your elbows are glued to your body. This is the starting position.
Extend your arms straight back with control and squeeze your triceps at the top.
Bend your elbows and slowly lower your arms back to the starting position.
Move 3: Lateral Raises
Activity
Dumbbell Workout
Start standing with a dumbbell in each hand, arms at your sides. Keep your back flat and knees slightly bent.
Keeping your core braced, raise the weights out to your sides until they reach shoulder height.
Lower the weights slowly to the starting position.
Tip
For this exercise, grab a pair of lighter dumbbells and focus on controlling the motion, rather than lifting with momentum.