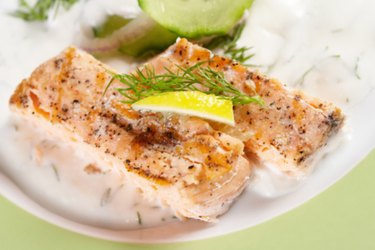 The tender flakiness of broiled salmon is a treat for the taste buds and a healthy diet staple for your body. Salmon contains omega-3 fatty acids, an essential nutrient that contributes to heart health. Broiling salmon with the skin intact keeps the fish a little more moist than cooking the fish with the skin already removed. Broiling salmon is easy and makes a delicious meal year-round.
Step 1
Combine the olive oil, low-sodium soy sauce and lemon juice in a mixing bowl. Whisk together to incorporate all ingredients. This is a healthy base marinade for your salmon. Substitute orange or lime juice for the lemon if you prefer.
Step 2
Chop the garlic cloves finely with a knife, or use a garlic press. Mix into the marinade mixture.
Step 3
Place the salmon and marinade into an airtight container or plastic bag and refrigerate for at least 30 minutes. The acids in the marinade will tenderize the fish.
Step 4
Turn on the broiler to 500 degrees Fahrenheit and spray a broiler pan with cooking spray.
Step 5
Place the salmon skin-side down on the broiler pan. Situate the broiler pan 4 inches underneath the heating element for salmon fillets that are at least 1 inch in thickness. Move the oven rack closer to the broiler if the fish is a thinner cut.
Step 6
Broil the salmon for about 5 minutes. Squeeze fresh lemon juice and drizzle a bit of olive oil over the fish after 5 minutes and continue to cook for another 4 to 5 minutes. Fillets that are close to 2 inches in thickness should be turned over for the remainder of the cooking time. Lift the fish with spatula; the skin may stick to the pan, but this is normal.
Step 7
Remove the salmon from the broiling pan with a spatula and plate. Peel the skin from the fish by hand -- carefully, as it will be hot -- or use a knife to lift the skin up. Serve the salmon without the skin and with fresh lemon.
Things You'll Need
Salmon

2 tbsp. olive oil

1/3 cup soy sauce

1/3 cup lemon juice

Mixing bowl

Whisk

2 cloves garlic

Knife

Airtight container

Cooking spray

Broiler pan

Spatula