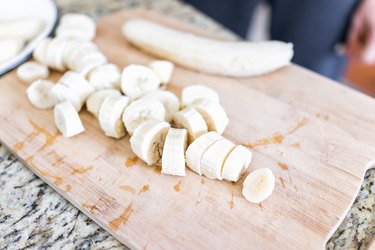 Bananas are a nutritious food choice and are versatile in creating some delicious snacks, but they have a very narrow window of ripeness. That's why freezing bananas for snacks is a great idea. If you're wondering, "What's the best way to freeze bananas?" here are a few tips.
Bananas: Green to Ripe
As the Harvard School of Public Health explains, bananas are a great source of such nutrients as vitamin B6, fiber, potassium, magnesium, vitamin C and manganese, and people who include them in their diets may enjoy such benefits as improved cardiovascular health, digestive health and weight control.
But if bananas have a drawback, it's their narrow window of ripeness. Before bananas are ripe, they have a thick green skin that's difficult to peel. Soon enough, however, bananas turn yellow and their skin is thinner and more flexible. As they get riper, they develop brown spots until the entire skin is a brownish-black color.
Unripe bananas should be stored at room temperature because the cold temperature in the refrigerator will stop them from fully ripening. (You can even speed up the ripening by storing them in a brown paper bag with ripe fruit, which will release ethylene gas and quicken the process.)
But once bananas are ripe, you might be inclined to preserve them as best you can. A completely ripened banana (or bunch of bananas) can be kept in the refrigerator for up to a week. The peel might get darker, but the flavor will remain the same.
Freezing Bananas for Snacks
If you have more bananas than you can consume within the week they will last in the refrigerator, you can always try freezing your bananas for snacks. Frozen bananas are great for making smoothies, banana bread, banana muffins and imitation ice cream.
So, what's the best way to freeze bananas?
Don't let your overripe bananas go to waste, and don't spend too much time worrying, "What's the best way to freeze bananas?" Now you know, and now you have some great ideas for improving your snacking game with some healthy frozen fruit.