Bananas are high in potassium and fiber, and delicious in baked goods, cereal, smoothies -- or just as they are as a light snack. To get the best-tasting bananas, always pick those that are firm, free of brown spots or bruises and yellow in color. If you've purchased too many to consume before they go bad, bananas freeze very well, allowing you to store and use them for up to four months. Use one frozen banana at a time for a treat like a smoothie, or use a whole bag of frozen bananas when making banana bread or muffins.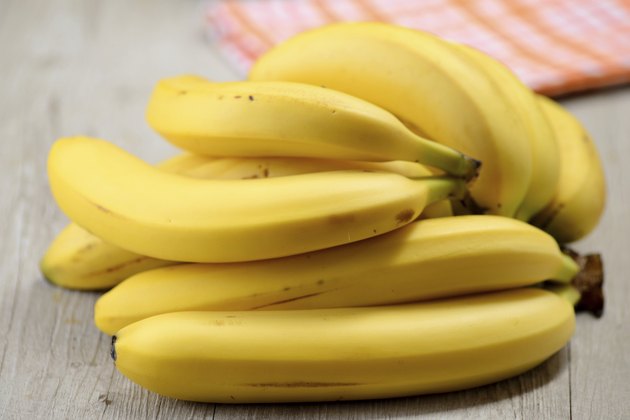 Step 1
Remove the peels from your bananas. Peeled frozen bananas can last up to four months, while those frozen with the peel last only two months. If you freeze with the peel, the peel will turn black, but the banana will stay preserved.
Step 2
Place your bananas into a zipper freezer bag. Push as much air as you can out of the bag before sealing it shut.
Step 3
Place the bag in the freezer. Position it where your bananas will not be crushed.
Tip
Don't crowd your bananas in the bag. If you keep them separate and intact, they can be pulled out one at a time after freezing.