If you do weight training workouts appropriately, they'll leave your muscle tissue damaged and overloaded. Eating right after you've finished lifting weights, when your muscles begin the healing process, helps support muscle recovery and facilitates muscle building. However, you shouldn't just eat anything you want.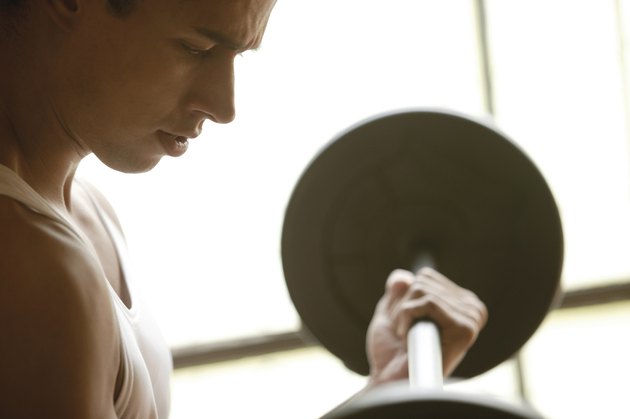 All about Timing
Eating right after you're finished your workout will help you build muscle and facilitate recovery. According to Dr. Joseph A. Chromiak, PhD, CSCS, consuming food just after your workout has the potential of increasing protein synthesis and reducing protein breakdown, which supports the building of muscle. The American Council on Exercise notes that you should consume food within 30 minutes after your workout to adequately replace glycogen stores and repair your muscle tissues. If you don't eat anything immediately after your workout, your body will enter a catabolic state, which means it will use muscle tissue for fuel instead of body fat or carbohydrates
What to Eat
The meal you eat after your workout should consist of both protein and carbohydrates. As noted by ACE, the American Dietetic Association recommends for a post-workout meal 1 to 1.5-grams of carbohydrates for every kilogram you weigh and 10 to 20 grams of lean protein. Quality choices include toast with turkey or tuna, a banana with peanut butter and Greek yogurt with fruit.
Foods to Avoid
You want the food you eat after your workouts to be easily digested. Therefore, avoid foods that are high in fat. Consuming fat shortly after your workout can adversely affect your body's ability to absorb nutrients. Therefore, stay clear of foods like bacon, burgers, pizza, cheese and French fries. Avoid nutrient-dense foods with healthy fats, for example, avocados, olive oil, nuts and fish, right after your workout.
The Right Amount of Food
To avoid consuming too many calories, make your post-workout meals the size of a snack. For example, have one slice of bread with a topping instead of an entire sandwich. In addition, if you've just started lifting weights or are participating in light strength training, it's likely you haven't worked out at an intensity high enough to require a post-workout meal. The American Council on Exercise suggests that if you have a post-workout meal without really needing it, you will exceed your ideal caloric intake for the day, which could lead to weight gain. Have a post-workout meal after longer workout sessions that are more intense.