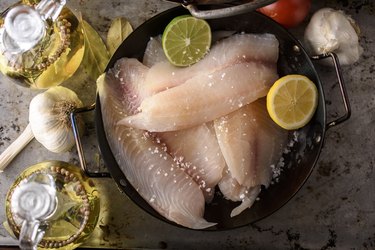 Oven-baked tilapia recipes tend to combine tilapia fillets with tasty, citrus-y dressings. As a white fish, tilapia easily takes on the flavors of the other foods you combine it with. You can make a range of oven-baked tilapia recipes, from crispy baked tilapia with panko to a tilapia casserole.
Oven-Baked Tilapia Recipes
On its own, oven baked tilapia is delicious but extremely simple. When prepared this way, the fish can be easily integrated to create tilapia tacos, burritos and a range of other meals. Given the simplicity of this white fish, people usually want to use it as an ingredient in some other plate, like a tilapia casserole or goulash, or turn it into a crispy dish like baked tilapia with panko.
Crispy baked tilapia with panko requires a variety of additional ingredients. For every four tilapia fillets, you'll also need:
2 cups of panko bread crumbs

1/2 teaspoon of mustard powder

1/2

teaspoon of white pepper

1/2

teaspoon of black pepper

1/2

teaspoon of coriander powder

1 teaspoon of garlic salt

1 teaspoon of onion powder

1 teaspoon of parsley

1 teaspoon of turmeric

1 tablespoon of paprika


1 egg yolk

Step 1: Pre-Mix Your Breading and Spices
Mix the panko bread crumbs and spices together before you take your fish out of the refrigerator. During this time, you should also preheat your oven to 400 degrees Fahrenheit (204 degrees Celsius).
Step 2: Coat Your Tilapia With Egg
Brush your tilapia fillets with egg yolk. Coat both sides with the seasoned panko mix before putting the coated fish onto a baking tray.
Step 3: Cook Your Panko-Crusted Tilapia
Cook the panko-crusted tilapia fillets in the oven at 400 F for 10 to 15 minutes. According to the Food and Drug Administration, your fish is fully cooked when it's reached an internal temperature of 145 F (63 C). If you don't have a cooking thermometer, you'll know your tilapia fillets are done when they are crispy on both sides and flake easily.
Baked Tilapia Nutrition Facts
The average fillet of tilapia is around 3 ounces (87 grams), which means that it's the ideal serving size. According the USDA, each cooked tilapia fillet has 111 calories, 2.3 grams of fat and 22.8 grams of protein. On its own, tilapia contains no carbohydrates; any carbs it has will come from the panko breadcrumbs. This fish is notably rich in essential nutrients like B-complex vitamins and selenium.
Fish are known for their substantial omega-3 fatty acid content, so this low ratio is unusual. For example, fatty fish like salmon have a very high omega-3 to omega-6 ratio (13 times the amount of omega-3 fatty acids compared to omega-6 fatty acids).
Omega-3 fatty acids are a particularly desirable type of unsaturated fat to consume from fish; you can easily obtain other omega fats from most plant-based products. Don't let this deter you from consuming tilapia, though, as it's still a healthy food. That being said, if you're specifically looking to consume omega-3 fatty acids, other types of seafood may be better options.