The muscle tightening and discomfort you feel when walking may be due to damage or strain to one muscle or an injury in your ligaments, tendons, organs or soft tissue. If rest and home care don't relieve the tension, you should see your doctor to check for more serious complications.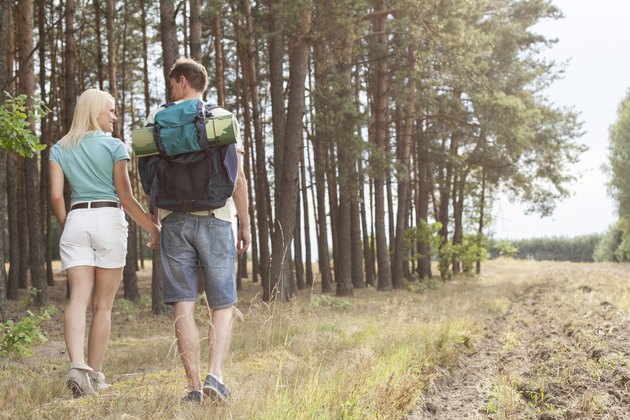 Causes
Usually, you get tight muscles when you walk too fast for too long. This causes overuse injuries, according to MedlinePlus. The cause typically is obvious and affects the muscles in your legs specifically. Muscle tightening may also be attributed to a more systemic condition in your entire body, such as fibromyalgia or lupus. Medication may also affect your muscles. An electrolyte imbalance can cause muscles to cramp and tighten, which can occur when you walk without hydrating sufficiently with drinks that contain potassium and salt.
Technique
Using proper techniques when walking can spare your muscles, tendons and ligaments from undue stress and strain. Your heels should lightly touch the pavement before the rest of your foot. Maintain a straight spine and keep your head up. According to the American College of Sports Medicine, your shoulders should be relaxed and held back slightly. Push off with your toes at the end of each step and keep your feet pointed forward. Twisting or sideways steps can pull your tendons and muscles and tighten them as a result.
Treatment
Massage often loosens up tight muscles after you walk. Over-the-counter anti-inflammatory medications such as ibuprofen can reduce the swelling while you rest your tight legs. Apply ice to the area for one or two days and then use heat to soothe the pain. Warm up before you go walking with gentle stretching and by walking slowly for the first five minutes.. Finish your walk with a cool down by walking slowly for another five minutes. Take time to stretch again after you walk. MedlinePlus reports that mental stress also can affect your muscles so you should get seven to eight hours of sleep before a long walk and keep your stress levels low by practicing meditation or yoga.
Warning
If your tightness becomes painful and lasts for more than three days, you should call your doctor. If your leg swells and becomes tender to the touch, you may have an infection or tick bite that is taking root in your leg. You should get immediate medical attention if the tight muscles are accompanied by a fever or vomiting or if you have trouble breathing, as your heart may not be working properly.