The book "Physiology of Sport and Exercise" states that detraining occurs when you lose "training-induced adaptations" because of inactivity. Detraining can lead to muscle loss or atrophy and a decrease in muscle strength within two to six weeks. However, your age, exercise program and fitness level play significant roles in how long it takes you to detrain.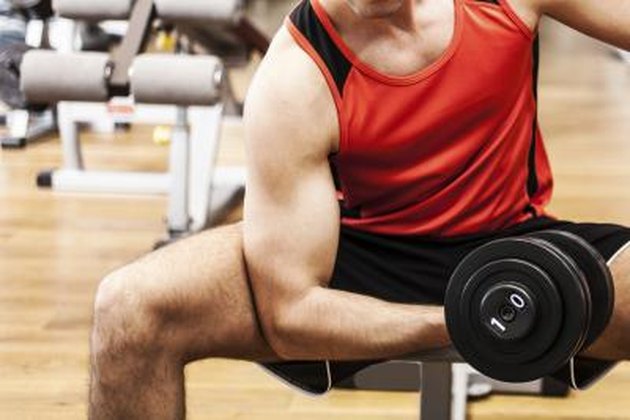 Fitness Level
Competitive athletes detrain quicker than recreational athletes because of their higher overall fitness levels. Competitive athletes could experience muscle atrophy after as little as two weeks of inactivity. According to a 2005 "Journal of Applied Physiology " article, recreational athletes experienced muscle atrophy and decreased strength after 12 weeks of inactivity. On the contrary, the book "Physiology of Sport and Exercise" reports that it took up to 31 weeks, not 12 weeks, before recreational athletes experienced a decrease in strength. So, given the reported evidence, competitive athletes may experience muscle loss after two to four weeks of no exercise, and recreational athletes between six and 31 weeks.
Type of Training
Your training program also impacts how quickly you detrain and lose muscle. Endurance athletes may experience muscle atrophy slower in part because their muscles are leaner and predominantly slow-twitched muscle fibers compared to power athletes, who predominantly have fast-twitch muscle fibers. For example, the book "Sports-Specific Rehabilitation" reports that endurance athletes such as rowers took up to 12 weeks to lose muscle mass and slow-twitched muscle fibers. On the other hand, power lifters, competitive weightlifters and football players can lose muscle strength as early as two weeks with inactivity.
Age and Gender
Muscle loss with an increase of fat in the muscle, also known as sarcopenia, is a common aging process. Because this occurs, the elderly may experience quicker muscle loss or more muscle loss during inactivity compared to younger individuals. A 2009 University of Queensland study found that elderly men and women experienced an increase in sarcopenia after 24 weeks of inactivity. Unlike age, gender has not been shown to influence the rate of muscle loss with detraining.
Additional Considerations
Although competitive athletes appear to lose muscle quicker than recreational athletes, their strength levels after detraining are still typically higher than recreational athletes. Competitive athletes also tend to regain muscular strength levels quickly during retraining. Different muscle groups can experience atrophy and strength loss at different rates with inactivity as well. Furthermore, detraining does not just influence your muscle size and strength. It also decreases your muscular endurance and cardiovascular fitness.