Vibrate your way to a slimmer, fitter you. Just strap yourself to a piece of equipment -- or it to you -- turn it on and watch your body be transformed. If your skepticism kicks in at that point in the infomercial, that's natural. Things that sound too good to be true usually are. Considering vibration plate exercise machines cost $1000 or more it's wise to find out before you buy whether or not they're a scam.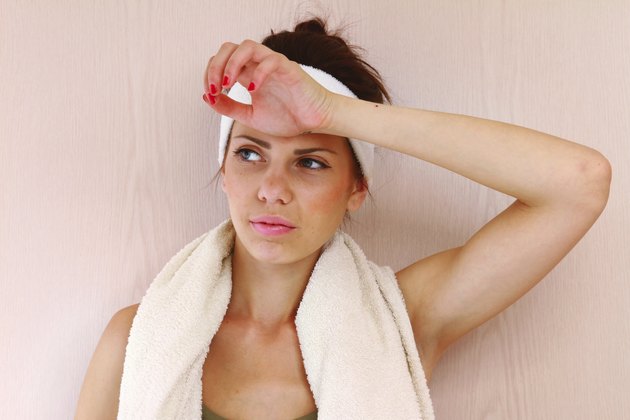 The Equipment, the Claims
Vibration exercise is done on a piece of equipment that vibrates your whole body from your feet up. There is more than one brand on the market, but they all have similar designs. The vibration equipment resembles a treadmill without the long deck: it has an upright front piece with a display screen, controls and a hand rests. Where the treadmill belt should be is where the vibrating plate is located. You stand on the plate while it vibrates 30 to 50 times per second. Vibration exercise is supposed to help you lose weight, increase power and flexibility, prevent muscle loss, improve bone density and even decrease cellulite and eliminate toxins from your body.
Doesn't Live Up to the Hype
If you're looking for proof that vibration exercise will melt the pounds away, the comprehensive research to support that doesn't exist. In the Huffington Post article "Do Vibrating Platforms Really Work?" Kelly Fitzpatrick reports that the studies that support vibration exercise are for particular purposes, such as specific medical applications. Fitzpatrick also says that the positive studies were usually extremely controlled trials. In an article for the New York Times, kinesiology professor William J. Kraemer admits that vibration exercise can be beneficial, but not to the extent of the claims. They shouldn't be used to the exclusion of other equipment, either. Dr. Kraemer points out that vibration machines are one tool among many that can all be used together for the benefit of the exerciser.
Sample Vibration Plate Workout
People who are out of shape and considered sedentary can start their vibration exercise workouts by simply standing on the plate, knees flexed. This is supposed to stimulate natural muscle contractions and get blood flowing. People who are used to exercise can add actual exercise movements while on the equipment to enhance the effects of both the vibration plates and the exercise. Some of the exercises you can do on vibration equipment include squats, calf raises, front and side lunges, pelvic thrusts done with your feet on the equipment while lying with your back on the floor, push-ups both with your hands on the vibrating deck and also with your feet on the deck, triceps dips done from the deck, and scissors exercise for your abs done while seated on the deck. Resistance bands with handles can be attached to the sides of the equipment to add resistance for exercises such as bicep curls and upright rows, both done while standing on the vibrating deck.
Vibrating Benefits
Just because vibrating exercise equipment might not give you the strength and weight loss results you're looking for, that doesn't mean that it's a useless scam. Dr. Joseph Mercola of Peak Fitness says that whole body vibration can help older adults who have problems with balance, can reduce bone loss and even alleviate pain. A 2008 study done at the University of Barcelona, Spain backed up the pain-claim when it showed that six weeks of traditional exercise supplemented with whole body vibration reduced pain and fatigue in women who were suffering from fibromyalgia.