Your body is made up of about 60 percent water. Every system in your body needs water to function efficiently. According to MayoClinic.com, water helps flush out toxins, carry nutrients to cells and provides a moist environment for your ears, nose and throat. However, the risk of drinking too much water can be problematic and even fatal. Drinking 32 oz. of water at one time may be too much water for you, depending on the situation.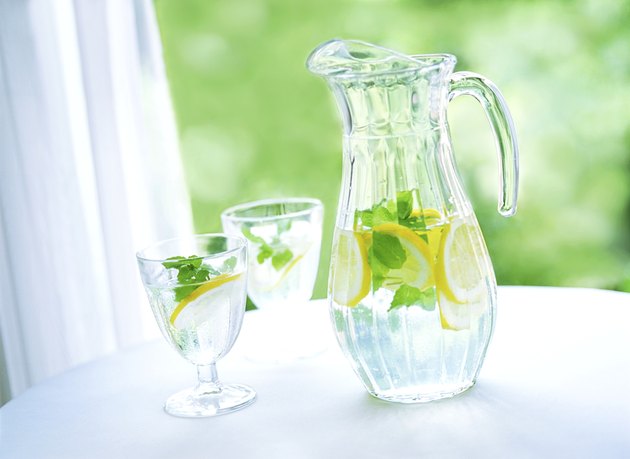 Significance
Drinking too much water in a short period of time can lead to hyponatremia, which means there is low salt in the blood. If the kidneys cannot flush the water out of your body fast enough, the water will flood areas where the salt concentration is high, namely, in your cells. Severe cases of hyponatremia can lead to water intoxication and death.
Risks
Healthy kidneys, at rest, are able to filter water out of the body at up to 1,000 mL per hour, which is about 34 oz. Most cases of water intoxication are not due solely to drinking too much water, asserts Joseph Verbalis, chairman of medicine at Georgetown University Medical Center. He goes on to say that a rise in the hormone vassopression often occurs under the stress of extreme exercise, like running a marathon. This hormone cues the kidneys to conserve water. If you drink even 32 oz. of water under this condition, water hyponatremia may occur.
Symptoms
Your risks when drinking 32 oz. of water at one time can vary based on your situation. Look for confusion, decreased consciousness, hallucinations, coma, convulsions, fatigue, headache, irritability, loss of appetite, muscle spasms, muscle weakness, nausea, restlessness and/or vomiting. If you have one or more of these symptoms, consult your health care provider immediately.
Tips
If you play any sports at a highly competitive level, drink sports drinks to keep your electrolytes balanced. Be cautious in doing this as well, however. According to Verbalis, as long as you are healthy and your internal thirst indicator isn't inhibited by old age or drugs, you should only drink as you are thirsty, during major sporting events.