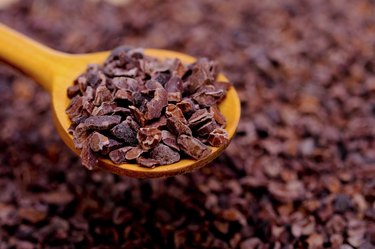 Raw cacao nibs are pieces of the beans from the cacao plant. The seed is the source of the cocoa powder and cocoa butter in chocolate. Commercial chocolate bars are made by roasting the cacao beans and heating the chocolate paste above 118 degrees Fahrenheit. In order to qualify as raw, a food may not be heated above that temperature, which means that commercial chocolate is off limits to someone following a raw food diet. You can make your own raw chocolate bars with raw cacao nibs, which are available at stores specializing in organic and raw foods.
Step 1
Put the grinder plate on the food processor. Add the cacao nibs and the cashew nuts to the food processor and grind them into a fine powder. Transfer the powder to a small bowl.
Step 2
Add the raw cacao powder to the cacao nib and cashew powder. Set the bowl aside.
Step 3
Clean out the food processor and change the plate to the cheese grater attachment. Grate the cocoa butter.
Step 4
Add hot tap water to the larger bowl and set the other small bowl inside. There should be enough water to go up the sides of the smaller bowl without overflowing.
Step 5
Transfer the cocoa butter to the hot bowl, inside the larger bowl. Stir the cocoa butter until it melts, using a medium silicone spatula.
Step 6
Add the coconut oil and stir until it melts into the cocoa butter. Mix the sweetener into the cocoa butter.
Step 7
Stir the cacao powder mixture into the cocoa butter, a little at a time, until completely mixed. If necessary, refresh the hot water in the larger bowl to keep the cocoa butter soft. Continue whipping the chocolate mixture for five minutes.
Step 8
Pour the mixture into a candy bar mold. Let it set in the refrigerator for up to one hour. Wrap the finished bars in wax paper and store them in plastic bags.
Things You'll Need
Raw cacao nibs

Cashew nuts

Food processor

Ceramic bowls

One Large bowl

Raw cacao butter

Coconut oil

Medium silicone spatula

Raw cacao powder

Raw agave nectar or sweetener of choice

Candy bar mold

Wax paper

Plastic bags
Tip
Minimise your added sugar intake by using the least amount of sweetener possible. Alternatively, try sweetening your chocolate bar with a natural low-calorie sweetener, like stevia.