If you're trying to put on muscle, you might be afraid to go more than a few hours without downing a high-protein meal or snack. You might believe that by not doing so, you risk slowing your metabolism, resulting in gaining fat and losing muscle. While many people think you'll lose muscle mass if you don't eat frequently, it's not true that missing a single meal will cause you to lose muscle mass. Carefully planned mini fasts may actually help to improve your muscle mass composition.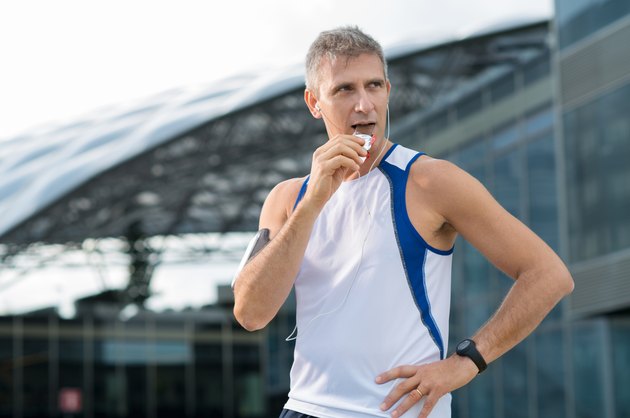 Myth of Catabolism
Catabolism refers to the break down of muscle tissue, which happens when you're undernourished. If you're in a catabolic state, you will lose muscle, which is one of the reasons why many people fear missing a meal. However, nutritionist Martin Berkhan reports that it actually takes up to 24 hours after eating for your body to go into a catabolic state. Many bodybuilders also like to spread their protein intake out through the day, due to the belief that the body can only use a certain amount of protein at a time, but according to strength coach and bodybuilder Tom Venuto, there's no limit to the amount of protein your body can absorb and use at one feeding.
Meal Frequency and Metabolism
Although you might hear that you should consume food every few hours to keep your metabolism up and burn extra calories, this doesn't appear to be true. Nutritionist Lyle McDonald writes on his website that this idea stems from a concept known as the thermic effect of food, where by consuming food, your body has to burn calories to digest it. McDonald believes that, provided your daily calorie intake is the same, you will burn exactly the same number of calories eating one meal a day as you would eating every two to three hours. So it appears that as long as you still eat your required calories, missing a meal will not cause your metabolism to slow down.
Growth Hormone
Growth hormone plays an important role in gaining muscle. It increases protein uptake in the muscle cells, and also helps to burn fat. Combining periods of fasting, with periods of feeding may actually help to increase the body's secretion of growth hormone, which could contribute to increased muscle mass.
Preworkout Meal
While missing meals won't hurt you, the one meal that you shouldn't skip is your preworkout meal. According to nutritionist Alan Aragon, training in even a semifasted state can lead to lower levels of protein synthesis and increased muscle damage. You may also find that you lack energy and focus if you do not eat before training.