Available in a variety of fruit combinations, Bolthouse Farms smoothies are a convenient way to up your fruit intake. And while the smoothies aren't necessarily a weight-loss drink, you can fit them into any healthy diet and exercise plan designed to help you lose those unwanted pounds. Consult your doctor or dietitian to help you design a plan that fits your specific diet and health needs.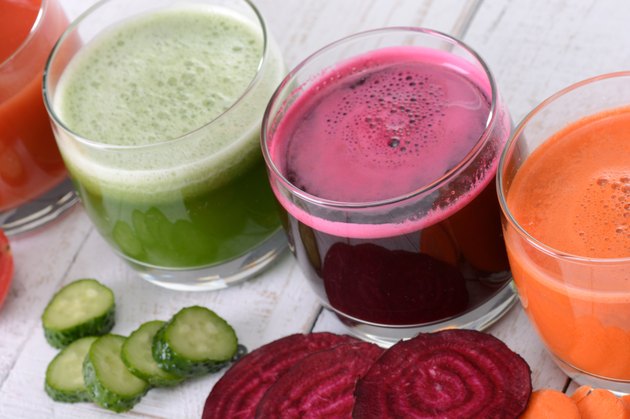 Calories and Bolthouse Smoothies
Bolthouse Farms smoothies are available in a variety of flavors, with varying calorie contents, ranging from 110 calories in an 8-ounce serving of Blueberry Banana Almondmilk to 160 calories in the same serving of Blue Goodness. It's important to know the calorie content of these smoothies when you're trying to lose weight.
To lose unwanted pounds, you need to eat fewer calories than your body needs. One pound of fat contains 3,500 calories, and to lose 1/2 pound to 1 pound of fat a week you need to create a 250-calorie to 500-calorie daily deficit. That means the calories in your Bolthouse Farms smoothie must count toward your overall calorie intake, not be an addition to your diet. For example, if you're following a 1,500-calorie diet, the 160 calories in a 1-cup serving of Bolthouse Farms Blue Goodness provides a little more than 10 percent of your calorie intake.
Lose Weight With Bolthouse Smoothies
Because it is mostly juice, a Bolthouse Farms smoothie does not make a good meal replacement. It's not a good source of protein or other essential nutrients you might find in commercial meal replacement drinks. Drinking the smoothie in place of a meal or two may lead to nutritional deficiencies. It's better to drink the smoothie as part of a meal or snack and limit your intake to 8 ounces, which is the standard serving size for juice.
To enjoy your smoothie without going over your calories, drink 1 cup of the smoothie with your breakfast meal instead of your usual orange juice, or enjoy a glass with your lunch in place of a piece of fruit. An 8-ounce serving of Bolthouse Farms smoothie also makes a good post-workout choice when combined with a protein source such as a handful of nuts or 1 ounce of low-fat cheese.
Benefit of Fiber in Bolthouse Smoothies
What makes a smoothie such as the Bolthouse Farms Smoothies stand out from regular 100-percent fruit juice is its fiber content. Like the calories, fiber in the Bolthouse smoothies also varies, ranging from 1 gram in a serving of Amazing Mango to 8 grams in a serving of both flavors of Multi-V Goodness. According to the Harvard School of Public Health, one simple change you can make to your diet to help you lose weight is increasing your fiber intake. This recommendation is based on a 2015 study in the Annals of Internal Medicine that reported a high-fiber diet was as effective as the American Heart Association diet at helping people lose weight. Including the higher-fiber Bolthouse Farms smoothies as part of your weight-loss diet may help you up your overall fiber intake and assist in your weight loss goals.
Things to Consider
A Bolthouse Farms smoothie can fit into any weight-loss diet; however, it may not fill you up like eating the whole fruit. A 2007 study published in the International Journal of Obesity found that beverage forms of solid food were not as satisfying as solid food and may cause you to eat more calories. Also, because it's a concentrated source of natural sugar and carbs, drinking fruit in smoothie form may cause a spike in blood sugar, according to the Center for Nutrition Studies.