The gluteus maximus muscle is the largest of the three gluteal muscles in your buttocks. Pain there may be due to a gluteal muscle strain related to an athletic activity like running, or even from stretching before running. Do not run if you feel acute pain during the activity, the NYU Hospital for Joint Diseases advises. After a period of rest and stretching and strengthening exercises, you can resume your normal physical activity. If the pain persists or weakens, see your doctor.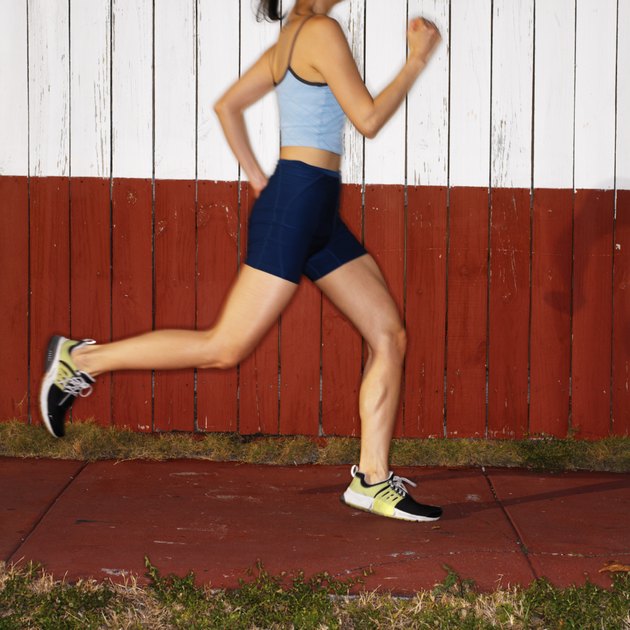 Causes and Symptoms
Running puts a lot of stress on many joints in the body because of its force and speed. The NYU Hospital for Joint Disease notes that a gluteal strain is not an extremely common injury, but may be seen in runners. A gluteal muscle strain can be caused by stretching muscles too far, placing sudden stress on the muscles, overuse and a direct hit to the muscles. You may feel pain and tenderness, stiffness or weakness of the gluteal muscles. You may also have bruising if a direct hit to the buttocks broke blood vessels. Keep in mind that pain in one of the deeper gluteal muscles might radiate out toward the gluteus maximus.
Treatment
Treatment of a strain in any one of your gluteal muscles depends on the extent of the injury, which could be anything from a minor strain to a complete tearing of muscle fibers. When experiencing gluteus maximus soreness, don't run if it causes pain and take shorter strides while walking. After you feel an injury has occurred, apply ice to the affected area for 15 to 20 minutes four times daily. Do this for several days until your pain subsides. You can take over-the-counter pain medication like acetaminophen or ibuprofen. Even though these medications may relieve your pain, don't return to your normal running routine until your pain subsides without medication. Engaging in physical activity too soon might worsen your gluteal strain.
Rehabilitation and Prevention
When you resume running, apply heat to the previously affected area prior to any activity. Start your run slowly and don't push yourself. Stop if you begin to feel gluteus maximus pain, as your muscle may not be completely healed. You also should do stretching and strengthening exercises for your gluteal muscles. Perform exercises several times daily to reduce your chances of straining a muscle during a run. Hold stretches for about 10 to 12 seconds and repeat each exercise five or six times.
Considerations
In addition to sports, gluteus maximus pain may be caused by conditions such as fibromyalgia or myofascial pain syndrome. Distinguishing the difference between injury, conditions or simple muscle fatigue caused by over-exertion or working above your current fitness level might be difficult. Consult your doctor if you have concerns about your pain and let him provide you with instructions regarding your running regimen.