Tenderloin steak, also known as filet or filet mignon, cooks up quickly and easily on the stove. Lean, yet tender and succulent, this buttery-flavored beef should be cooked using dry methods, such as broiling, grilling or frying. It turns out particularly well when seared and then finished on the stove top. Its subtle flavor complements many different spices and flavors, but stands on its own as well. This compact steak makes for an elegant centerpiece of a meal, even when seasoned simply with salt and pepper. The tenderloin should not be cooked beyond medium rare.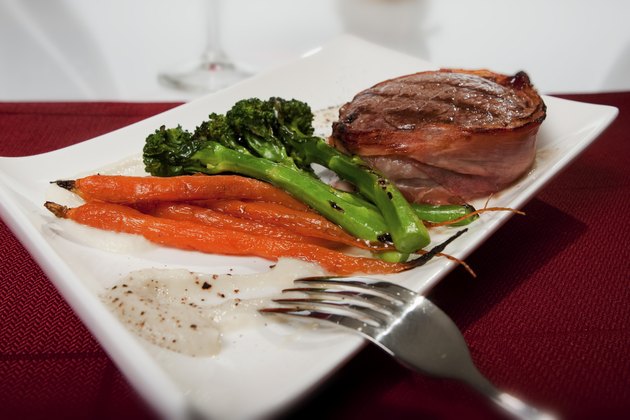 Preparation
Step 1
Remove the tenderloins from the refrigerator 20 minutes before cooking to bring them to room temperature.
Step 2
Pat the tenderloins dry with paper towels. Sprinkle generously with salt and fresh ground pepper. Massage the seasonings into the meat.
Step 3
Rub oil on the outside of the steaks.
Cooking
Step 1
Heat the skillet over a medium-high heat to scalding – until a drop of water sizzles and dances on the skillet. Put 1 tbsp. of oil into the middle of the skillet and swish it around to cover the cooking surface. Heat the oil until it begins to smoke.
Step 2
Place the tenderloins in the middle of the skillet. With your fingers or tongs, move the steaks around in a circular motion to spread the oil. Sear the steaks for two to three minutes. Use tongs to flip the steaks and sear the other side for two or three minutes. This searing causes proteins in the steaks' surface to interact with the sugars, creating a flavorful crust containing hundreds of different-flavored compounds.
Step 3
Lower the heat to medium. Cook for an additional seven to nine minutes total, flipping the steaks occasionally, for medium rare or medium. Avoid cutting or piercing the steaks because this causes the loss of precious juices. Use an instant read digital meat thermometer to determine doneness, sticking the tip through the side, into the middle of the steak. Cook the steaks to 125 degrees Fahrenheit for rare, 130 for medium rare and 140 for medium. The steaks will continue to heat after you remove them from the skillet.
Step 4
Transfer the steaks to a plate and cover them loosely with aluminum foil. Allow them to rest for 10 to 15 minutes. This enhances their flavor and gives the juices time to distribute evenly throughout the tenderloins.
Step 5
De-glaze the skillet with 1 tbsp. of butter and 2 tbsp. of water. Heat the skillet over medium heat and scrape the bottom of the skillet with your spatula to loosen any charred remnants. Reduce the liquid a little. Drizzle the de-glazing liquid over tenderloins.
Things You'll Need
Tenderloin steaks, 3/4 to 1 1/2 inches thick; one 4-oz. to 5-oz. steak per diner

Salt and fresh ground pepper to taste

Olive oil

Skillet

Tongs

Plate

Aluminum foil

1 tbsp. of butter