Sockeye, or red, salmon is a species found in the northern Pacific Ocean and the rivers that discharge into it. They grow up to 2 feet 8 inches long, and they have deep red meat. Sockeye salmon is slightly oily with a mild flavor that sits on the palette for seconds after taking a bite. Baked sockeye salmon goes well with light seasonings and has a soft, juicy texture. You will need about 20 minutes to bake sockeye salmon.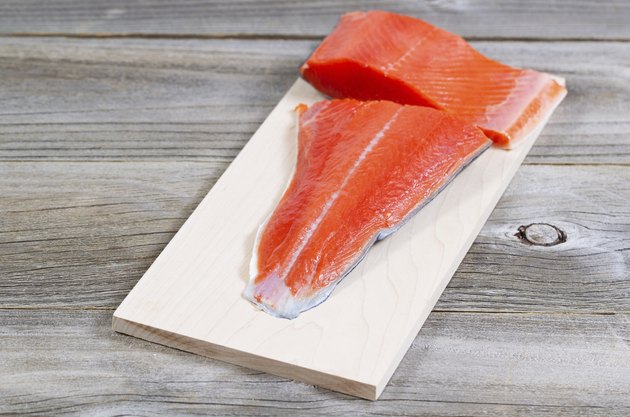 Step 1
Preheat the oven to 375 degrees Fahrenheit.
Step 2
Rinse the salmon fillets under cool water and pat them dry with paper towels. Set the fillets aside at room temperature.
Step 3
Distribute a thin layer of olive oil over the interior of a baking pan with a paper towel. You can also grease the pan with a thin layer of cooking spray.
Step 4
Lay the fillets in the pan and season with minced garlic, salt and pepper. Cover the baking pan with a sheet of aluminum foil.
Step 5
Place the salmon fillets into the oven and bake for 16 minutes or until the flesh flakes easily with a fork. Remove the baking pan from the oven and leave at room temperature for five minutes.
Step 6
Uncover the pan and check the salmon's internal temperature with a meat thermometer. If it does not register at least 145 degrees Fahrenheit, bake uncovered in five-minute increments until it does. Serve while hot.
Things You'll Need
4, 8-oz. salmon fillets, skinned and boned

Paper towels

Olive oil or cooking spray

Baking pan

4 tbsp. minced garlic

1 tsp. sea salt

1 tsp. ground black pepper

Aluminum foil

Meat thermometer
Tip
If you have a favorite salmon seasoning mixture, use it instead of the garlic, salt and pepper in this recipe.