If you buy creamed corn from your local grocery, you miss the pleasure of making your own and eating a more creamy, fresh version of this classic dish. Make it straight-forward, highlighting the corn flavor, or add additional flavor with cheddar cheese, cooked onions, or coconut milk. Corn is a good source of vitamin C and also contains lycopene, the chemical that gives tomatoes their red color. According to the Academy of Nutrition and Dietetics, your body absorbs more healthful lycopene from canned corn than it does from fresh corn.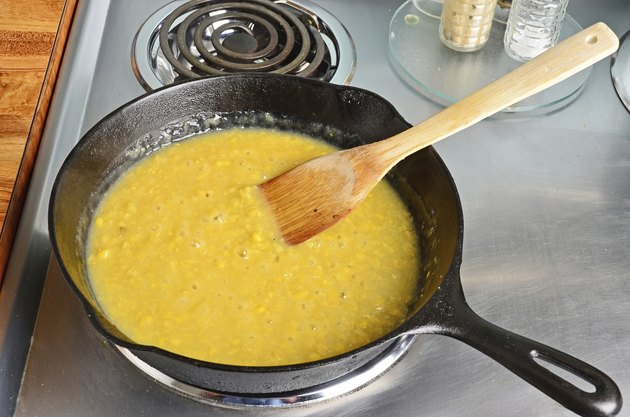 Step 1
Rinse the canned corn to remove excess salt. Pour out the liquid from the can, refill the can with water and repeat the process three times. Or simply empty the can into a colander and run water over the corn for one minute.
Step 2
Melt the butter in a large skillet over medium heat and add the corn. Cook until the corn is heated.
Step 3
Add the evaporated skim milk or half-and-half and bring the mixture back up to a simmer. Add salt and pepper and a pinch of cayenne pepper if you want a spicy tang to the dish.
Step 4
Cook the mixture for about five minutes until it has thickened slightly from the evaporation of the liquid.
Step 5
Stir the cornstarch with 1 tbsp. of cold water in a small bowl. Add the mixture into the corn and cook, stirring continually, for another minute until the mixture thickens. If it seems too thick, thin the corn with 1 to 2 tablespoons of milk or water.
Step 6
Taste the corn. Add salt, pepper, cayenne or sugar to taste. Garnish the dish with chopped parsley.
Things You'll Need
3 cups of canned corn

Colander, optional

3 tbsp. butter

Large skillet

Stirring spoon

1 1/2 to 2 cups of evaporated skim milk or half-and-half

1 tsp. of salt

1/4 tsp. of pepper

1 pinch of cayenne pepper, optional

1/4 to 1 tsp. sugar, optional

Small bowl or measuring cup

1 tbsp. cornstarch

1 tbsp. water or milk, optional

2 tbsp. chopped parsley
Tips
To make creamed corn into a vegan dish, use a light oil in place of the butter, and soy, coconut or almond milk in place of the evaporated milk. To mimic the rich mouth-feel of heavy cream, registered dietitian Karen Collins recommends adding pureed Great Northern beans or cooked potatoes to your dish. Experiment with amounts from 1/4 to 3/4 cups.
Add pureed tofu to your dish for another way to add creaminess as well as protein. (See Reference 4, under A Bowl of YUM)
Warning
To keep the heart-healthy benefit of creamed corn, choose a low-fat dairy product instead of using heavy cream, which contains 100 calories in just 2 tbsp., according to Collins.