Few foods capture the nostalgia-tinged joy of summer like fresh, sweet corn on the cob. And while corn has developed a bit of a bad health reputation, mostly due to its ubiquitous presence in processed foods, it can fit into a healthy diet. If you're going to eat corn, stick to unprocessed ears or kernels, watch your portion size, and enjoy it along with other healthy foods, like lean proteins and high-fiber produce.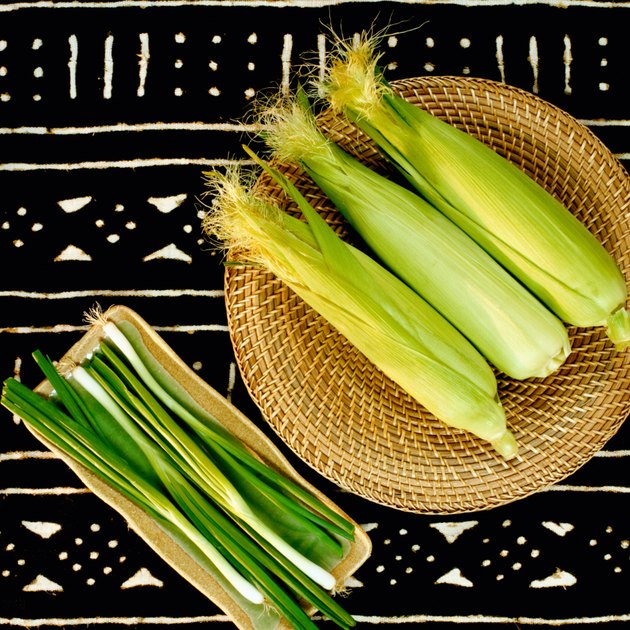 Calories in Corn
Corn is a moderate source of calories, so, in moderation, it can fit into a healthy diet. A medium ear of boiled corn on the cob is 99 calories, while a small cob is just 85 calories. A cup of corn kernels, however, is 143 calories. Creamed corn is even higher in calories -- 184 calories per cup -- with the extra calories coming primarily from its higher carbohydrate content. If you don't watch your portion size, you could easily end up overeating; a can of creamed corn has 347 calories, or almost one-fifth the daily calorie limit in a 2,000-calorie diet.
In comparison, a 1-cup serving of chopped carrots has just 52 calories. Other veggies are even lower in calories -- a cup of spinach has just 7 calories, while an equivalent serving of chopped green pepper has 30 calories.
Nutritional Benefits of Corn
Corn provides several essential nutrients, which is why it's a welcome addition to your healthy diet. A cup of boiled yellow corn kernels offers 4 grams of fiber -- 14 percent of the daily value -- which can prevent constipation and promote good cardiovascular health. Each serving also has 14 percent of the daily value of vitamin C and 12 percent of the daily value for manganese -- two antioxidants that play a role in bone health. You'll also get small amounts of B-complex vitamins, which are involved in your metabolism, plus about 5 grams of protein.
Starchy Veggies and Weight Control
The USDA dietary guidelines classify corn as a starchy vegetable, which is a group of veggies you should limit to maintain a healthy body weight. One study, published in PLoS Medicine in 2015, looked at the dietary patterns of 133,468 people in the United States and analyzed how eating fruits and vegetables impacted weight gain over a 24-year period. They found that people who ate more starchy veggies were more likely to have gained weight during that time; whereas, people who ate more fiber-rich produce, like berries, were more likely to lose weight.
If you're overeating starchy veggies to the exclusion of other produce, you might miss out on the benefits of other groups of vegetables. For example, beneficial beta-carotene -- a source of vitamin A -- found in many red and orange veggies, and the vitamin K and iron found in leafy greens.
USDA ChooseMyPlate guidelines recommend a total of 4 to 6 cups of starchy veggies weekly for a balanced diet, depending on your gender and age. That figure includes your intake of other starchy vegetables -- like potatoes and sweet potatoes -- not just corn.
Beware of Processed Corn and HFCS
While unprocessed corn is healthy in moderation, you should avoid processed corn products. Corn is one of the cheapest sources of sugar in the United States, thanks to agricultural policies that subsidize corn crops, so food manufacturers often turn to high-fructose corn syrup, or HFCS, as a low-cost sweetener for processed foods. HFCS has no place in a diet. According to research conducted at Princeton University, consuming HFCS over table sugar makes weight gain and chronic diseases, like diabetes, more likely.
If you're looking to maintain your health, steer clear of foods that contain HFCS. Always check the nutrition label -- HFCS isn't just found in obvious foods, like sweetened cereals and baked goods; it's also found in some "health" foods like yogurt and granola.
Healthy Serving Tips
Stick to unprocessed corn when you're on a diet, and choose cooking methods that don't require adding fat, like boiling or grilling. Use corn as a garnish -- a mixture of grilled corn kernels, black beans, chopped cilantro, green onions and jalapeno makes a spicy salsa that works well as a topping for grilled white fish or grilled chicken breast. Make a delicious and diet-friendly soup with chopped broiled turkey breast, corn kernels, sweet red pepper, chopped kale or Swiss chard and white beans in a vegetable broth, or get just a hint of sweet corn by adding a handful of toasted kernels to your favorite salad.