Let's face it: Corn isn't often touted as being a super veggie like broccoli or kale. Yet, despite being labeled as a low-nutrient and starchy vegetable, corn is actually a very nourishing addition to your diet — and can be enjoyed in many more ways than just on the cob.
In addition to being a solid source of fiber, corn contains several B-vitamins, such as thiamin and folate as well as many minerals including magnesium and potassium, Kelly Jones, RD, tells LIVESTRONG.com. Adding corn to a salad or tacos post-workout will help replenish lost electrolytes through its potassium and magnesium content. "It also has phytonutrients, like lutein and zeaxanthin, which are both known to promote healthy vision," says Maggie Michalczyk, RD.
So, as summer comes to a close and corn remains in season, it's prime time to incorporate it into various recipes while dining al fresco. Need some inspiration in the kitchen? These nine delicious, hearty corn recipes are perfect for summertime and all year round.
1. Grass-Fed Steak Tacos With Cowgirl Salsa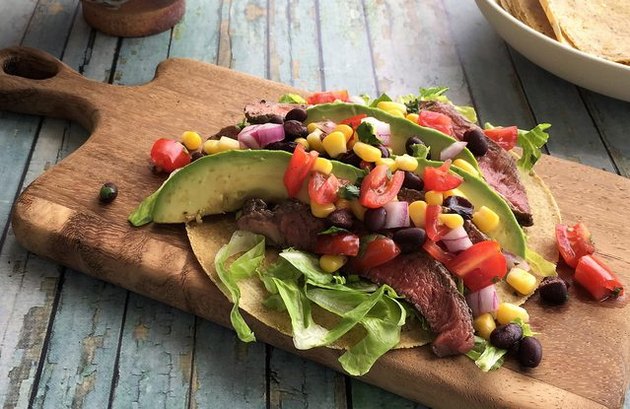 "This recipe uses corn two ways, as the starchy base with the tortilla and as a garnish with the kernels," says Jones. The grass-fed beef provides some omega-3 fatty acids, which you won't get from conventional beef, along with protein to build strong muscles and keep you full. Plus, the avocado adds even more healthy fat. "All of these nutrients complement each other well for a satisfying and bright meal," she says. Whip these up for an outdoor barbecue, and pair with a margarita for a fun happy hour with friends.
2. Hearty Gazpacho Bowl
This chilled soup helps cool you off in the summer. Plus, it's packed with chickpeas, corn and avocado to boost satiety with a balance of fat, protein and fiber. "This gazpacho bowl uses corn for texture, and its sweetness balances out the spice from the flavorful serrano," says Jones. "If you aren't into cold soups, this can easily be used as a salsa to garnish other dishes or to dip tortilla chips into," she adds.
3. Vegetarian Mexican Personal Pizzas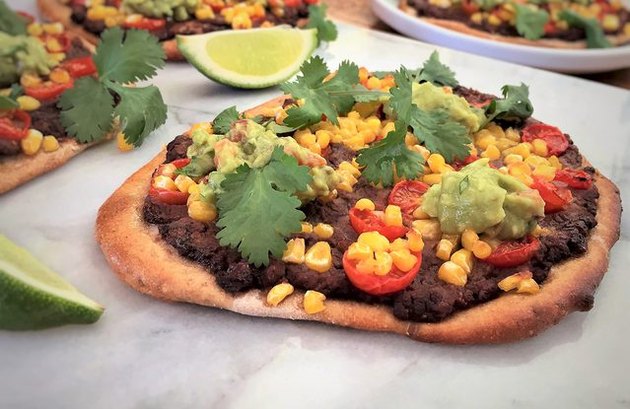 "Mexican-inspired pizzas offer tons of exciting flavors that change things up from a traditional pie," says Jones. Plus, when you make your own from scratch, you can use wholesome toppings and a healthy crust to keep calories, sodium and fat in check. "This variety gets plenty of crunch from the corn, but the ingredient also adds brightness to the dish. Between the corn and the black bean spread, you're getting plenty of plant protein and fiber for satiety, too," she says.
4. Southwestern Salad With Black Beans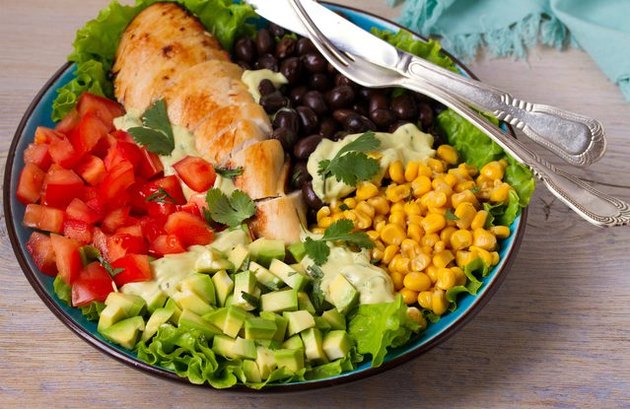 This Southwestern salad with black beans and corn won't leave you hungry an hour after lunch, that's for sure. "Many salads are nourishing, but too low in carbohydrates, leaving you feeling unsatisfied or hungry soon after — which can lead to constant grazing or overeating later," says Jones. Yet, the addition of corn as the whole grain in this salad gives you energy to power through the day, she says. And the chicken and beans both have protein to fill you up.
5. Mexican Street Corn With Avocado Dressing
"This dish is an amazing alternative to traditional elote, or Mexican street corn, which is usually heavy in mayo, crema and cheese," says Michalczyk. And those ingredients could be major diet-busters and make you feel weighed down in the sun. "This lightened up version doesn't skimp on the flavor but features a number of veggies that really drive home the fiber and add antioxidants," she says. Plus, the rich avocado dressing lends the bowl the creamy texture you crave sans the saturated fat.
6. Colombian Sweet Corn Arepas With Strawberry Salsa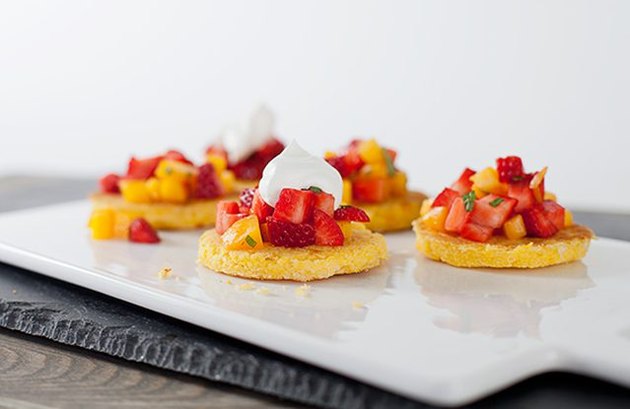 Arepas are traditionally made with just cornmeal; however, since this recipe uses the whole kernel of corn, there's an additional punch of fiber, flavor and texture. "Pairing the arepa with the fresh strawberries, mango and pineapple juice make this dish a vitamin C powerhouse," says Michalczyk. Plus, the strawberry salsa helps satisfy that sweet craving in a healthy way.
7. Mexican Tomato, Black Bean and Corn Pasta Soup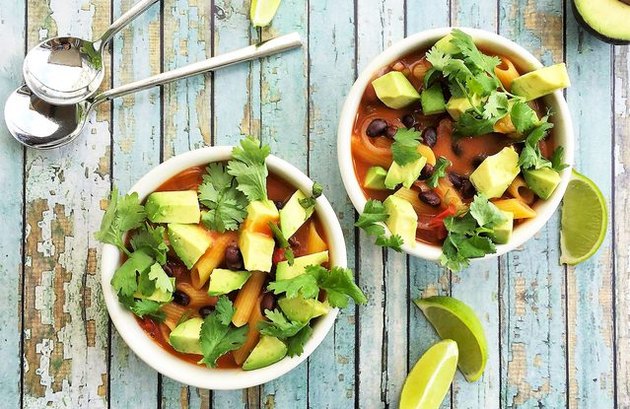 Soup fills you up fast, and this savory soup that features corn-based pasta is perfect for summer. "This dish is a great way to enjoy pasta without the gluten for those with celiac disease or those who are sensitive to gluten," says Michalczyk. It's also low in fat and packed with anti-inflammatory benefits from all the veggies, as well as boasts an impressive 20 grams of fiber and 15 grams of protein.
8. 5-Minute Spicy Vegetarian Mexican Bake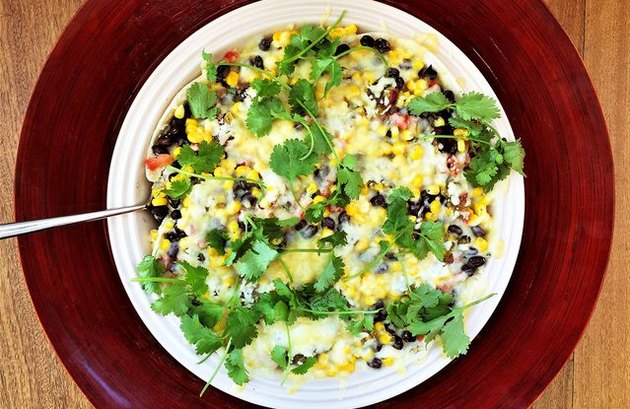 This baked entrée really maximizes the use of corn, as it calls for both corn tortillas and fresh corn. "The corn served two ways in this dish is an excellent way to sneak in additional fiber as well as the vitamins and minerals corn offers," says Michalczyk. Plus, the black beans serve as a great source of protein and fiber to hold you over until your next meal. Garnish with cilantro, and add more salsa or spice if you want extra heat. The best part? It requires just five minutes to prep!
9. High-Protein, Gluten-Free Cornbread
Ditch your bakery cornbread for this high-protein version you can whip up easily at home. "This gluten-free cornbread recipe is great for anyone with gluten sensitivity and is packed with all of the benefits that come from corn in addition to a healthy dose of protein and healthy fats," says Michalczyk. "The added broccoli is also a source of vitamin C, potassium and folate." And it boasts under 160 calories per slice!