Metabolism typically slows considerably after age 50 which can make it very hard to lose weight or even prevent weight gain. Although you can't prevent many age-related changes, eating a healthy diet that restricts certain foods may help promote weight loss. An effective weight loss plan is low in sugar and saturated fats.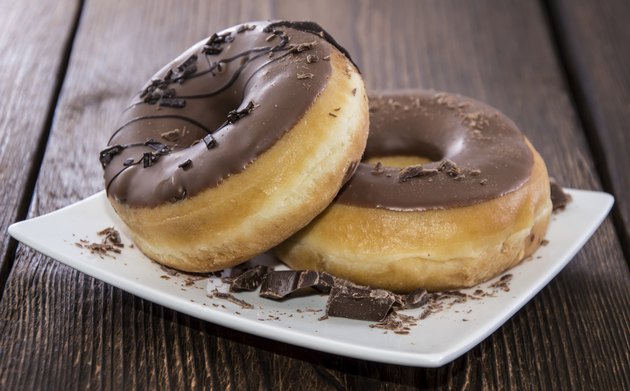 Aging Effects
Muscle mass can begin to decline as young as age 20 but the rate of depreciation escalates between the ages of 50 and 70, explains John Hopkins University. As a result your body will burn fewer calories than it did when you were younger. Men tend to put on weight until around age 55, then gradually begin to lose weight. Women generally gain weight until about age 65 before pounds slowly begin to drop off. Weight loss in older adults is due, at least in part, to diminished muscle tissue.
Fruits and Vegetables
While fruits and vegetables are staples of a healthy diet, certain types should be avoided for weight loss, Harvard School of Public Health explains. Potatoes are a starch and should be eaten in moderation. Choose vegetables like broccoli, cabbage, green beans and carrots which are high in fiber and low in calories and carbohydrates. Avoid or limit bananas, oranges, grapes, pineapples and cherries because they tend to be high in carbohydrates. Opt for blueberries, raspberries, peaches or apples.
Fat and Sugar
Don't eat fatty ground beef. Instead look for lean meat, preferably 90 percent or higher. Don't eat the skin on chicken. Remove the skin yourself after cooking or buy skinless chicken. Try to cut your use of butter, margarine and oil in half, advises the University of Pittsburgh Medical Center. Avoid foods and beverages that are high in added sugars, such as soda, fruit drinks, cakes, sweet rolls and cookies. Food labels may use alternative names for added sugars, such as corn sweetener, corn syrup or molasses.
Considerations
Eating five or six small meals a day, instead of three large meals, can help keep your metabolism continuously burning and processing calories. A nutritious diet that can help shed unwanted pounds includes fruits, vegetables, whole grains, dairy products, fish, poultry, lean meats, beans, nuts and eggs. It's not only what you eat but why you eat that may contribute to weight gain over age 50. People may eat when stressed, mad, sad or just plain bored. Eating when you are not hungry or overeating can become a habit that isn't easy to break.