Weight gainer shakes help you consume more calories when you aren't getting enough from your usual diet. With the right ingredients, a single shake could boost your day's intake by around 4,000 calories. If you frequently engage in high-intensity exercise or are severely underweight, adding a high-calorie weight gainer shake could be just what you need. Do not add a 4,000-calorie weight gainer shake to your diet without recommendation from your doctor or nutritionist, though, as it far exceeds the U.S. Department of Agriculture's recommended maximum daily intakes.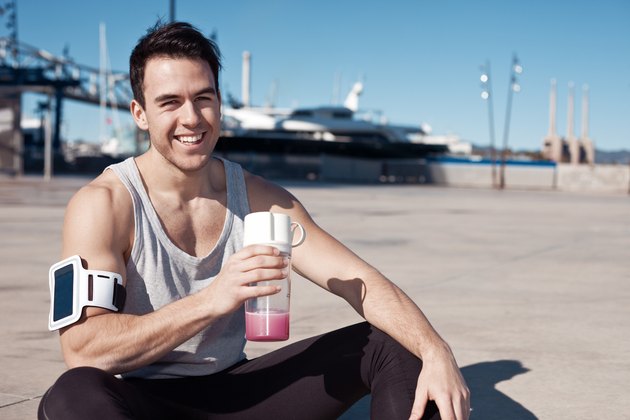 Basic Ingredients
Keep high-calorie ingredients on hand to use as the primary calorie sources for your gainer shakes. Heavy cream is a good base, with 820 calories per cup. If you can't tolerate dairy, use coconut cream as the base, for 790 calories per cup. To thicken your shakes, try coconut oil, for 940 calories per 1/2 cup. For a slightly sweet thickener, use peanut butter for 1,515 calories per cup. Alternatively, sweeten your shakes with mashed bananas, at 200 calories per cup, or honey, at 515 calories in each 1/2 cup. To add crunch to your shakes, use whole nuts like almonds, which have 825 calories per cup. Mix and match these ingredients to create your own 4,000-calorie shakes.
Customizing the Flavor
Flavor-enhancing ingredients like cocoa powder, vanilla extract, ground cinnamon or ground nutmeg won't add many calories to your shake, but they can make it more enjoyable and prevent boredom. You can drink a different flavor of shake every day of the week even if you use the same basic ingredients for each one. If you make a shake you don't enjoy, add flavorful ingredients to adjust its flavor instead of throwing it out and starting over.
Peanut Butter and Banana Shake
A shake with 1 cup of heavy cream, 1 1/2 cups of peanut butter, 3 cups of mashed bananas and a cup of rolled oats will provide about 4,000 calories. To make the shake crunchy instead of creamy, use just a cup of peanut butter and add a cup of whole almonds or another type of nut. If you use frozen mashed bananas, your shake will almost be thick enough to eat with a spoon, similar to ice cream.
Coconut Cream Shake
Blending 1 1/2 cups of coconut cream, 1/2 cup of coconut oil, 1/2 cup of honey, 2 cups of oats and 1 cup of almonds makes a shake with just over 4,000 calories. If you don't like your shakes sweet, swap the honey for 2 cups of mashed bananas or leave it out. Though the coconut oil and coconut cream add high amounts of saturated fat, the medium-chain saturated fats they contain are good for you, according to the University of California. However, if you've never consumed coconut in large quantities, try this shake halved or even quartered first, as too much can cause diarrhea for some people.
Enhancing Powdered Shakes
If you're using powdered gainer shakes, instead of doubling or tripling the amount of powder per serving, add high-calorie ingredients to enhance it instead. For example, if you have a chocolate-flavored gainer powder that provides 2,000 calories per serving, add 2 cups of heavy cream and a cup of mashed banana to get the calorie total near 4,000.