Nothing adds succulence to a well prepared meal like the salt scented aroma and taste of mussels. According to the U.S. Food and Drug Administration (FDA), mussels are rich in protein and minerals. They are low in fat and cholesterol, and are an important part of a heart healthy diet. Yet, because they are delicate and highly perishable, mussels at the ready are not available unless they are frozen. Whether wild or farmed, mussels can be frozen in or outside the shell, and with or without its sweet, savory juice. For safety, only cooked mussels should be frozen.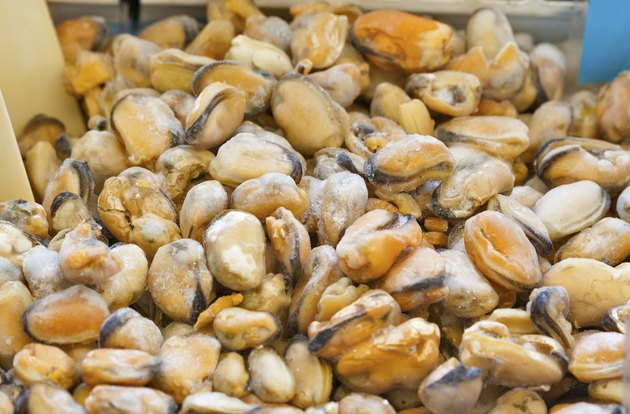 Steamed Mussels
Step 1
Pour one to two cups of water or white wine into a large saucepan. Add mussels. Cover the sauce pan. Turn heat on high. Reduce heat when steam is released from the sides of the pan. Shake the pan gently during the cooking process to distribute the juices and evenly cook the mussels.
Step 2
Watch the pan carefully, and remove each mussel as it opens. Discard all mussels that have not opened.
Step 3
Strain the broth. Place mussels in a bowl along with the hot broth.
Step 4
Cut lemon into sections and place alongside the bowl containing the mussel servings for your guests to squeeze onto their mussels according to taste.
Baked Mussels
Step 1
Steam mussels as previously described and throw away any mussels that do not open. Preheat oven to 350 degrees Fahrenheit or 175 degree Celsius or heat grill to medium high heat.
Step 2
Drizzle olive oil over the mussels. Season according to taste with sea salt, pepper, garlic and parsley.
Step 3
Crush bread crumbs until finely ground. Top mussels with bread crumbs. Bake for seven to 10 minutes or until mussels are golden brown.
Things You'll Need
1 lb of frozen mussels

1 to 2 cups of white wine or water

Olive oil

Sea Salt

Pepper

Garlic

Parsley

Bread crumbs

1 lemon
Tip
If you are serving mussels as an appetizer, allow 10 to 12 mussels per person. Allow twice as many if mussels are the main dish. The U.S. Food and Drug Administration (FDA) recommends that mussels be thawed overnight in a refrigerator. If you have to thaw your mussels immediately, place them in a plastic bag and immerse the bag in cold water, allowing 30 minutes per pound. If you plan to start cooking immediately after thawing, you can use the defrost setting on your microwave for three to five minutes per one half pound of mussels, and allow to stand for three minutes. Some store bought frozen mussels can be steamed or microwaved while still inside the plastic wrapping.
Warning
The FDA recommends that seafood not be left unrefrigerated for more than one hour when temperature is above 90 degress Fahrenheit. Do not prepare or eat mussels if you are allergic to seafood. Shellfish are rich in copper, so people with liver disease or any medical problem involving copper excess should avoid eating mussels.