Whether you're looking forward to competing in next month's 5K or viewing your favorite movie marathon from the couch, tight muscles in the lower back and hip can interfere with your plans. The complex structure of muscles and nerves that support your lumbar spine and hips helps to hold your body upright, and it gets involved whenever you sit, stand, walk, run or twist. Keeping your spine and hip muscles flexible and protecting them during your workouts may help prevent the discomfort and possible injury associated with tight muscles.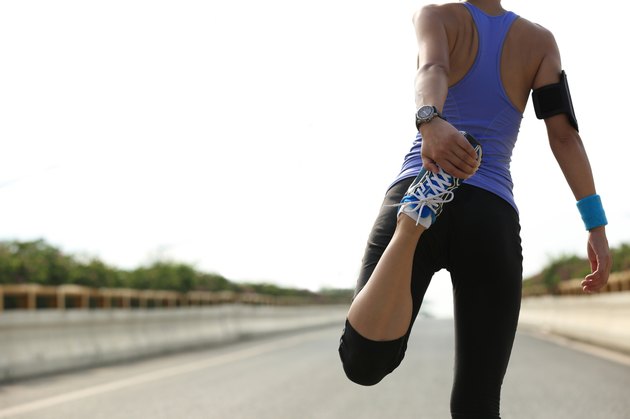 Lower Back and Hip Muscles
Extensor muscles attached to the back of your spine help keep your spine erect, enable you to stand and provide support for lifting. Muscles attached to the front of the spine, including the abdominal muscles, called flexor muscles, help you bend forward, arch the lower back and keep the spine aligned. The muscles on your sides are the obliques. They attach to the spine and allow you to twist from side to side and maintain correct posture. The piriformis muscle runs from the base of the spine to the outer hip. Ongoing tightness of the piriformis can cause pain in the hip or buttock. This, according to Dr. Timothy Maggs, writing for SpineUniverse, may eventually cause sciatica resulting in pain traveling down the buttock and leg.
Deconditioning
Muscles, including those in your lower back, hips and abdomen, need regular use to maintain the strength necessary to support your spine and movements. Weak abdominal muscles tighten the hip flexors and cause the spine to curve inward. Tight hamstrings, the large muscle at the back of your thigh, limit pelvic motion, which stresses the muscles in the lower back. Weak hip flexors also increase the curve in the lower back, resulting in tight lower back and hip muscles.
Injury
A blow to your lower back or hip region can cause inflammation and swelling that makes your muscles contract or tighten. Lifting incorrectly or overall poor posture often results in lower back spasms that affect the hip muscles as well. Interestingly, while regular exercise is often a remedy for lower back and hip pain, too much exercise can also result in muscle pain and tightness. Dr. Maggs notes that runners are especially susceptible to piriformis syndrome, a repetitive motion injury caused by over-training or exerting without giving your muscles time to recover between runs.
Prevention
Dr. Peter Ullrich, writing for Spine-Health, recommends performing routine strengthening exercises that focus on the flexor, extensor and oblique muscles, as well as routine flexibility workouts, such as yoga, to keep hamstrings loose. If you suspect a piriformis injury, with pain in the center of your buttocks or running down the back of your leg, Dr. Maggs recommends you not perform any hip stretching routines or further running until the injury has healed completely. Always check with your doctor if you have severe discomfort or pain that does not resolve quickly.