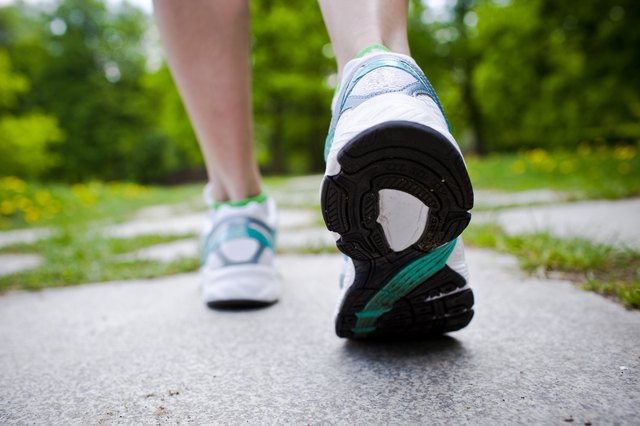 Developing sore feet after a long walk is not uncommon. Your feet take a lot of punishment throughout the day, especially if you are active and walk for long distances. It is important that you wear proper walking shoes and keep your feet as comfortable as possible during physical activity. If and when you do develop soreness in your feet, you should take proper care of them to avoid any long-term ailments.
Overuse
A long walk can cause your feet to become sore, especially if you are new to physical activity. Don't get discouraged, though. Some soreness is normal after being on your feet for long durations. Your muscles, ligaments and joints must first become accustomed to regular physical activity to reduce and eventually eliminate the intensity of soreness that follows a long walk. Soreness can develop from a few hours up to several days after your walk. In most cases, basic self-care treatments can help relieve the soreness.
Rest
Keeping weight off your feet after a long walk should be a top priority. It stands to reason that soreness will subside more quickly when your feet don't have to support your full body weight. If your typical day requires you to stand on your feet for considerable durations, try to schedule your long walks at times that allow you to rest your feet for at least 24 hours afterward. Limit any standing, long walking or climbing stairs when recovering from a long walk. If possible, you should also avoid wearing shoes during your resting period. This frees the feet from any pressure that shoes can add.
Ice and Heat
Long walks can sometimes cause your feet to swell, in addition to becoming sore. If the swelling is painful, place an ice pack from the freezer on the affected area of your foot for 15 to 20 minutes, three times a day. Some prefer to use heat instead to help relieve soreness. Soak your feet in hot water for 20 minutes after your long walk. Foot baths can be enhanced with various oils designed to stimulate blood circulation and to relieve soreness. Light massage may also help relieve soreness, as long as the massage is not painful.
Elevate
Soreness is partially the result of consistent pressure pushing down onto your feet from walking, especially on the heel. The pressure can often cause a pounding feeling in your feet that is exacerbated if you wear tight shoes. To help relieve this pressure, you should elevate your feet several times a day for at least 15 minutes. Elevating the feet and keeping them at an angle at which the feet are higher than your pelvis allows for the blood to flow freely through your feet and legs, which eases the built-up pressure.