Anaerobic exercises -- such as those using free weights, like barbells and dumbbells, or weight machines -- are designed to build muscle mass through tension. Before starting a weightlifting session, you should decide whether to do slow or fast repetitions. While you are not training incorrectly with either speed, the speed, or tempo, that you lift weights will generate different results. Lifting slowly may effectively stimulate muscle growth. Conversely, you could gain more strength by doing fast repetitions.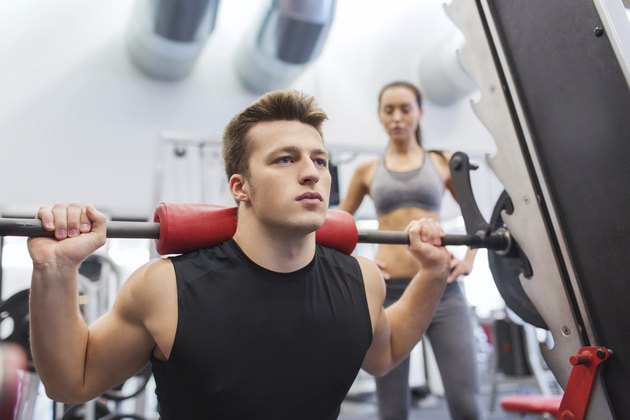 Slow Reps
Jeff Anderson, who wrote the best-selling bodybuilding book "Optimum Anabolics," defines a slow repetition as one that takes 10 seconds. Lifting a weight is referred to as the "positive" phase of a repetition. The positive phase should take roughly four seconds. When the lift reaches its peak, pause for two seconds to maximize resistance. Subsequently do the "negative" phase and allow four seconds to lower the weight back to its starting position. Lifting slowly prolongs muscle tension and increases blood flow. Therefore, slow reps are intended to grow and build muscles.
Fast Reps
A fast lifting tempo involves doing reps explosively while maintaining good form. Fast repetitions will minimize tension. However, you can still lift heavier weights with fast reps. Lifting heavier weights can bolster your overall power and strength.
More Effective
You will benefit from weightlifting in either a slow or fast manner. Focus on doing slow reps if your goal is to build a muscular and aesthetically pleasing physique. If you are training strictly to add strength, concentrate on lifting with fast repetitions.
Rest and Recovery
Whether using slow or fast reps, your muscles stretch and then contract during weightlifting, and this causes microscopic tears to develop in the muscles you are training. Expect your damaged muscles to feel sore 24 to 48 hours following an intensive anaerobic workout. The feeling is medically termed delayed onset muscle soreness, or DOMS. Your muscles should naturally recover and emerge bigger and stronger during the rest and recovery stage. If needed, you can take an over-the-counter anti-inflammatory medication to help lessen the tenderness in your muscles.
Warning
Speak with a doctor before undertaking a new workout regimen if you are overweight or have been physically inactive for three months or more. Weightlifting can be grueling, and it is not the type of exercise you should begin without preparation.