How many calories you consume at each meal depends on your eating habits and calorie needs for the day. Certain diet plans advocate eating multiple mini meals with a low number of calories to keep your metabolism burning, while others have you eating small meals to be followed up with one very large meal. Figuring out how many calories you should eat in one sitting can be confusing. No one calorie amount is right for any given meal -- you have to find a plan that works for your schedule and body.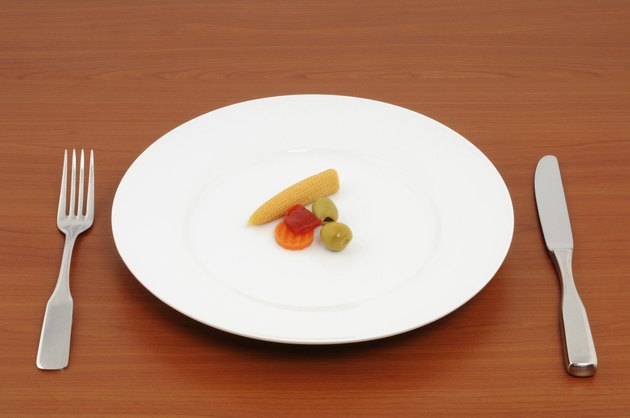 Significance of Overeating
Understanding how many calories your body needs can help you manage your weight. Eating more calories than you burn causes you to gain weight, while eating too few brings about weight loss. Overeating at one meal can cause an excessive surge in insulin and then a rapid drop in blood sugar, which creates cravings for sugar and carbohydrates, according to a report from National Public Radio. This cycle may lead to weight gain. Eating too many calories at once can also change your stomach's natural ability to feel fullness and may cause it to learn to empty more quickly, making you feel hungry more often.
Calorie Recommendations
According to the U.S. Department of Health and Human Services 2010 Dietary Guidelines, the typical woman needs about 2,000 calories per day, and the typical man 2,500 calories per day. If you consume three meals per day, your meals should contain 650 to 700 calories for a woman or 800 to 850 calories for a man. Snacking between meals can be a healthy way to stem hunger, as long as you keep your calorie intake to a modest level. If you choose two 200-calorie snacks daily, meals should contain between 450 and 500 calories for women and 600 and 650 calories for men.
Intake Research
A review in "Forum of Nutrition" published in 2003 found that eating meals frequently throughout the day may have a positive impact on metabolism and weight management. People in France who eat a mid-afternoon meal to address midday hunger have better body mass index levels and improved blood sugar control. If you do choose multiple meals daily, be aware that the calorie intake at all your meals must adjust to account for the added food.
Points to Consider
Skipping meals might seem like a way to save calories, especially if you are trying to lose weight. Keep in mind that if you consistently miss meals, you may find yourself overeating at the next sitting due to extreme hunger. Whether you eat three meals per day, or five mini meals, you have to find a strategy that works for you.