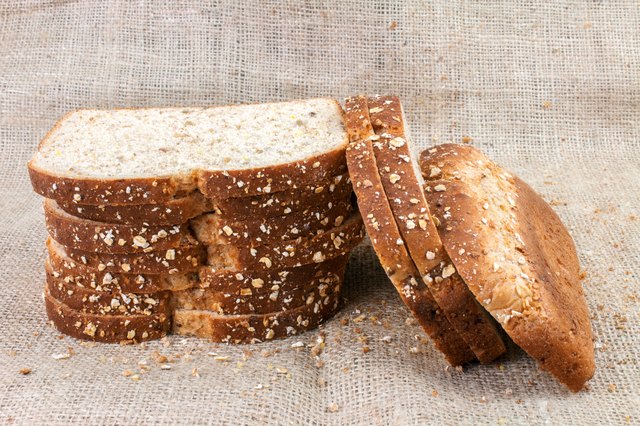 A love of bread may be keeping you from starting a low-carb diet, since you aren't sure you can give it up. Luckily, low-carb plans like Atkins and South Beach, which are very restrictive in the first phase, eventually allow you to eat wheat bread after you've lost some weight. Even then, though, you'll need to pay attention to the type of wheat bread you eat and how large a portion.
What Qualifies as "Low Carb"
The U.S. government recommends adults get at least 130 grams of carbohydrate a day, or 45 to 65 percent of their calories. Pregnant and lactating women are advised to get 175 and 210 grams, respectively. Anything less than these amounts is technically "low-carb," but specific low-carb plans may recommend different amounts of carbs at various points in the process. For example, on Atkins 20, you begin the diet at just 20 grams of net carbs a day and gradually work up to eating 100 grams. "Net carbs" is another term for digestible carbs; the number is determined by subtracting grams of fiber from total grams of carbohydrate in a food.
Low-Carb Diet Phases
Both the Atkins 20 and South Beach diets restrict the kinds of carbs you can eat in the first stage of your diet as you're weaning yourself from carb dependence. Atkins 20, the classic Atkins diet, limits you to nonstarchy vegetables and some nuts during the induction phase, while South Beach also permits legumes, beans and dairy. Although you can have wheat bread in Phase 2 of South Beach, Atkins postpones your bread consumption until Phase 3 – when you're within 10 pounds of your goal weight.
If you have less weight to lose or are concerned about eating too few carbs, Atkins 40 is a more flexible low-carb option. This plan allows you to eat any type of carbs from the first day, as long as you don't exceed 40 grams a day. Up to 25 of those grams can come from grains like wheat bread.
Wheat Bread Options
Not all wheat breads have the same number of net carbs, so some will work better for your low-carb diet than others. Look for whole-grain breads with the highest amount of fiber, which is indigestible and is subtracted from the carb total. Some of your best bets among wheat breads are 100 percent whole grain, with 9 grams of net carbs in a slice, and 100 percent whole-wheat, with 10 grams. Italian and French bread have more carbs, with 13 and 15 grams in a slice, respectively. White bread has 12 grams in a slice, raisin bread has 13 grams, and sprouted whole-wheat comes in at 18 grams.
Sandwich wraps made from wheat are generally lower in carbs than sliced bread, with 3 to 10 grams of net carbs per wrap, depending on the brand. You can also find tortillas made from wheat flour with net carbs in the range of 4 to 19 per serving, depending on the type and diameter.
Steer clear of sourdough bread unless you have a surplus of net carbs, because one slice will set you back 35 grams. Pita is high in net carbs, too, with 31 grams in a single whole-wheat round.
Wheat Bread Alternatives
Other breads made without wheat flour may be alternatives when you've reached the stage of eating whole grains. A slice of bran bread has 11 grams of net carbs, while oatmeal bread has 12 grams. Rye and pumpernickel also come in at 12 grams a slice, but varieties that are 100 percent rye and pumpernickel are 17 grams each.
For another option in which you avoid carbs almost completely, wrap a large leaf of romaine lettuce around your sandwich ingredients like roast turkey and cheese. One large outer leaf has less than half a gram of net carbs.