Push-ups do plenty for your physique — they're one of the top exercises for your chest, they work your core and the many modifications means you can keep your workout fresh. However, push-ups are not a panacea, and they won't be the sole movement that get you ripped. While you should include both traditional push-ups and variations in your regular workout, you should also engage in other strength-training exercises, cardio activity and a healthy diet to meet your goals of a fit, strong body.
The Magic Number
There's no right number of push-ups for a person to do each day — the number you can do with good form depends on multiple factors, including your age, gender and fitness level. However, to significantly build strength in the muscles that a push-up targets, you will have to complete more push-ups than the average person each day.
The average 25-year-old male can complete 39 push-ups, while the same person with a high level of fitness should be able to complete 54 reps or more. However, the average 50-year-old man can typically complete 21 push-ups; someone of that age and gender should aim for at least 36 reps. A 50-year-old woman's average push-up number is 11, while 31 or more is considered "excellent."
Variations
If you want to get ripped using push-ups, incorporate a number of variations into your workout. A small study published in 2011 in the Journal of Strength and Conditioning Research found that the push-up variation that produces the most ground reaction force — that is, the version that make your body work the hardest — is a push-up with your feet elevated, also known as a decline push-up.
During a decline push-up, you get into a plank position and then elevate your feet on a bench or exercise ball behind you. Complete a push-up repetition as normal, focusing on keeping your head, hips and ankles in a straight line.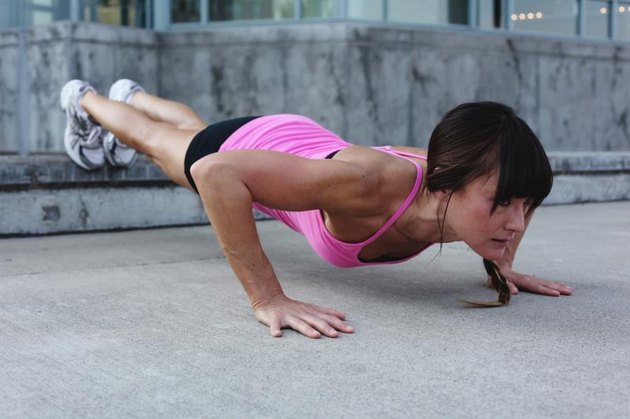 To further increase your upper-body strength, include additional difficult variations of push-ups in your workout, such as:
Clap push-up: This plyometric exercise requires strong joints. To make it easier, start in a modified push-up on your knees and work your way up. Increase the difficulty by upping the number of claps between each push-up.
Depth push-up: Also a plyometric movement, this requires two elevated platforms placed slightly wider than shoulder-width apart. Get into a push-up position between the two platforms, and perform a standard push-up — until you get to the bottom and push your body up as fast as possible, letting your hands leave the ground and land on the edges of each platform.
Handstand push-up: Face a wall and kick into a handstand position so your back is now facing the wall while upside down. Your hands should be on either side of your head. Bend your elbows until your head nears the ground and then push up, extending your arms so they're straight.
What Else Do You Need?
Even the hardest variations of push-ups won't get you ripped. In order to decrease your body fat and increase your muscle mass, you must complete full-body strength-training for all major muscle groups, including your legs (quads and hamstrings), core (glutes and abdominals) and upper body (shoulders, arms, back and, of course, chest).
You will also need to burn body fat through cardiovascular activity; aim for at least 30 to 60 minutes a day of running, swimming, biking, dancing or another activity that gets your heart pumping.
Finally, a healthy diet is key to getting lean enough to show ripped muscles. Eat plenty of lean protein, such as fish, poultry and lean beef, as well as a large amount of vegetables, particularly leafy greens, and a smaller amount of fruit and whole grains, such as brown rice. Keep in mind that when you're building muscle, you have to eat more than you would if you were only trying to lose weight.