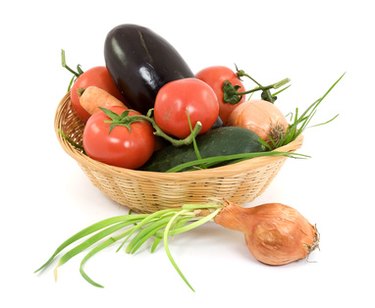 According to the official Seventh Day Adventist Dietetic Association website, SDAs have been vegetarians for over a century. No meats are allowed in their diets, including beef, chicken, fish and wild game. The SDAs believe that after alcohol and tobacco – both of which are banned – meat is the next worst item you can put into your body.
Animal Products
Eggs and dairy products are acceptable in the Seventh Day Adventist Diet but should be consumed in moderation to keep cholesterol intake under control. Low-fat dairy is the preferred choice for those who choose to consume dairy. Alternatives such as soy, almond and rice milk are also acceptable.
Foods Allowed in Moderation
Legumes and beans are allowed in moderation. Anything containing salt, sugar and cholesterol should be consumed in small amounts and only ocassionally. In fact, the SDAs classify these foods as "for very limited use."
Other Foods
Whole grains, fruits and vegetables constitute the base of the Seventh Day Adventist Diet. While the religion advocates vegetarianism, followers do have the choice of eating meat if they choose to. In that case, they can eat only "clean meats," which are basically the same as kosher meats. Pork and shellfish are prohibited.
Religious Views
According to the SDAs, any food or drink you consume should "honor and glorify God." For the SDAs, this means not consuming any foods that have caused suffering, such as meats. The SDAs have their own General Conference of Seventh Day Adventist's Nutrition Council, which dictates the norms followers should adhere to. However, these rules are in accordance with the U.S. Dietary Guidelines for Americans and the Food Pyramid, so they offer a balanced approach to eating.