When you're working hard to build muscle, you may be lured by nutritional supplements promoted to help you reach that goal. While there's nothing wrong with taking weight gainer supplements, they may not work for everyone, and there are potential side effects, such as fat gain, allergic reactions and interactions with medications. Consult with your doctor to discuss the use of weight gainer supplements before adding them to your diet routine.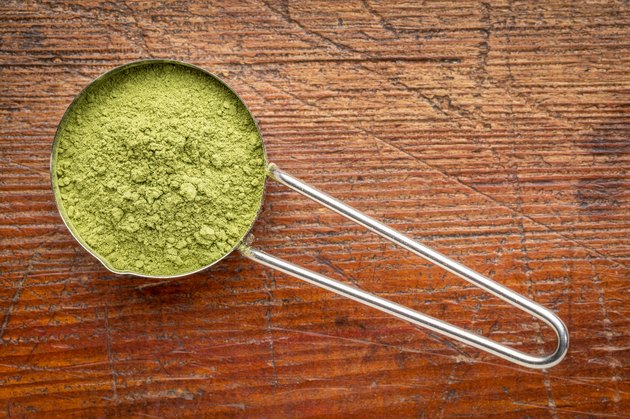 What Are Weight Gainers?
Weight gainers are high-calorie supplements promoted to help you pack on the muscle. They contain varying amounts of carbohydrates, protein and fat, plus vitamins, minerals, individual amino acids and other supplements such as creatine. One serving of a weight gainer supplement can have from 320 calories to more than 1,000 calories and from 16 grams to more than 60 grams of protein. Typically, they are mixed with water or milk and consumed before or after a workout.
Unhealthy Weight Gain With Weight Gainers
When you're trying to build muscle, you need to get more calories in your diet. A high-calorie diet to promote weight gain ranges from 2,200 to 3,200 calories a day, depending on age and gender. If you're having a hard time meeting those calorie needs, a weight gainer supplement can help. However, if you don't need as many calories as you think and you start taking the high-calorie supplement, you may gain fat and not muscle. Getting too many calories from any source -- even one marketed as a muscle builder -- leads to fat gain.
Allergic Reaction
Although the risk is small, the possibility exists that you may have an allergic reaction to a food, according to Food Allergy, Research and Education. Weight gainers are a potential source of soy or milk -- which are two of the most common food allergens. Plus, these supplements also contain a variety of other nutrients and herbal supplements, which may potentially cause an allergic reaction. If you experience hives, itchiness or a stomach upset, stop taking your weight gainer and schedule an appointment with your doctor.
Negative Effects of Creatine in Weight Gainers
Creatine is a supplement taken by athletes to help improve performance and build muscle. Although considered safe, some potential health concerns exist with this added supplement. MedlinePlus warns that high doses of creatine may cause damage to your kidneys, and the effects may be compounded if you're taking medication that may also potentially harm kidneys such as cyclosporine, ibuprofen, naproxen or tobramycin. Creatine may also cause dehydration if you're not drinking enough water on warmer days.