Protein may be the foundation of muscle, but amino acids are the building blocks of protein. Your body uses 21 different amino acids to create all of the different proteins necessary for tissue function. However, nine specific amino acids, called essential amino acids, can't be produced by your body and must be obtained through your diet. Similarly, additional supplementation with amino acids before exercise can help enhance cardiovascular endurance, muscular strength and overall recovery.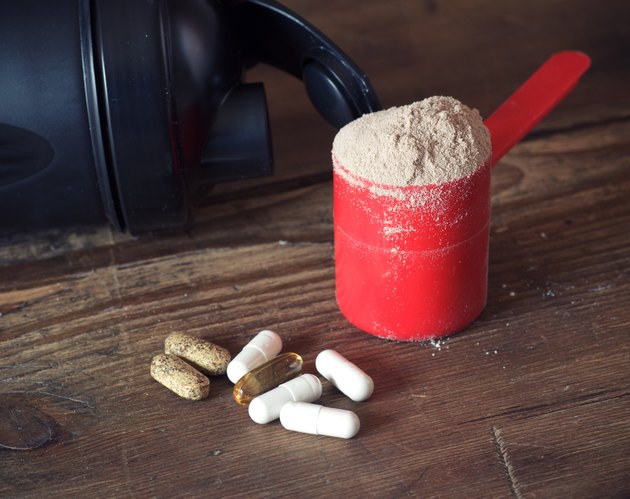 Supplement Options
Many options exist for amino acid supplementation before exercise. You may prefer whole foods full of protein such as meats, beans or dairy products. Whey and casein protein powders also offer amino acids -- in fact, many products contain a bonus profile of amino acids added to the product over and above the protein. If you choose to exercise in a fasted state or find solid food unsettling right before a gym session, pre-workout mixes may provide the amino acids you need. Pre-workout drinks boast low calories -- often around 20 calories or less -- and usually don't contain protein. Filled with caffeine, electrolytes and various essential and nonessential amino acids, pre-workout mixes boost energy, alertness and strength.
Branched-Chain Amino Acids
Whether you are an endurance or strength athlete, branched-chain amino acids -- or BCAAs -- remain the most important types of amino acids to include in your supplement regiment. Leucine, isoleucine and valine are essential amino acids that serve as the primary amino acids used during intense exercise according to 2010 research in the Journal of the International Society of Sports Nutrition. BCAAs both decrease protein breakdown and increase protein synthesis, leading to enhanced recovery time and improved strength gains. BCAAs may also enhance your mental focus. The remaining amino acids including glutamine, citrulline, carnitine and alanine also benefit you during exercise in terms of muscle repair, endurance and perceived fatigue.
Amino Acid Timing
According to a 2005 study by Mark Dodson of the University of California-Los Angeles, amino acid supplementation directly before exercise stimulates muscle synthesis. Providing your body with BCAAs and other amino acids before resistance training or an endurance event helps you to remain in an anabolic state -- in other words, your muscles continue to grow rather than break down. Amino acid supplementation floods your body with these compounds so they can quickly be used for muscle repair during exercise. This also results in reduced delayed-onset muscle soreness, allowing you to return to the gym sooner and with less pain or discomfort. You may benefit from amino acid supplementation first thing in the morning as well since your body remains in a catabolic state during sleep.
Negative Effects of Supplementation
While both essential and nonessential amino acids are necessary for healthy human functioning, too much of a good thing can be detrimental. Research in a 2011 issue of the Journal of Cachexia, Sarcopenia and Muscle concludes that excessive amino acid supplementation poses many dangers, especially the compounds methionine, arginine and glutamine. Excessive amino acid consumption can stress the kidneys, specifically for people in renal failure. Unused amino acids, whether from supplementation or whole protein sources, must be processed in the kidneys before excretion. Increased kidney workload can lead to damage, and if amino acids are not adequately flushed from your body, poisoning can occur. The Centers for Disease Control and Prevention recommends 46 grams of daily protein for women and 56 grams for men. If you exercise intensely on a daily basis, your body may benefit from up to twice those amounts.