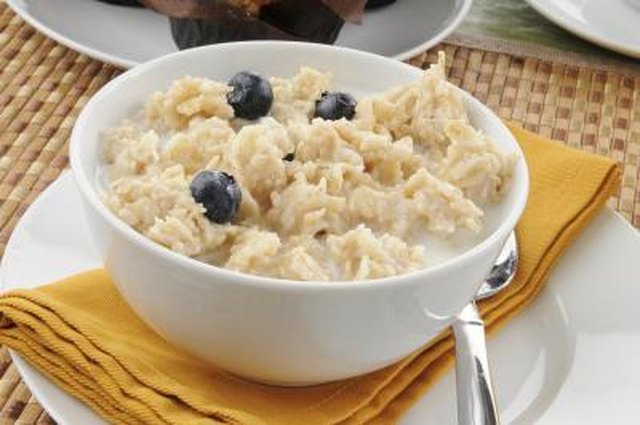 Although "breakfast for dinner" can seem like a strange concept, a healthy food is healthy no matter what time of the day you eat it. There are some distinct advantages to starting the day with a bowl of oatmeal, but you can get all of the same nutritional benefits by having it for dinner instead.
Benefits
One of the reasons that oatmeal can be such a successful food for weight loss and healthy weight maintenance is because of its low energy density. A low energy-dense food has high water and fiber contents and low fat and calorie amounts. In every 100 g of cooked oatmeal, the USDA notes that more than 83 g is from water. That water, combined with both the soluble and insoluble dietary fiber in oats, can keep you full for longer than other foods and may encourage you to eat fewer total calories. ChooseMyPlate.gov also reports that whole grains such as oatmeal can reduce risks of constipation and heart disease.
The Evening Meal
When you eat oatmeal for breakfast, it can help curb your hunger all day, but that advantage isn't quite as relevant if you eat it in the evening. However, if you're prone to after-dinner snacking or indulgent desserts, you might still be able to cut calories and follow a healthier diet by eating oatmeal at night. When you skimp on whole grains and fiber throughout the day, eating oatmeal for dinner can also help you "catch up" on those nutrients and balance your diet, as long as you're eating regular servings of fruits, vegetables, lean proteins and dairy at other times of the day.
Oatmeal and peanut butter mixed with a bit of honey will make a healthy, no-bake cookie at the end of the day.
Nutrition Facts
The USDA reports that one cup of cooked oatmeal, whether from quick, regular or instant oats, has about 165 calories, 6 g protein, 3.5 g fat, 28 g carbohydrates, 4 g fiber and 0.5 g sugar. Keep in mind that if you cook your oatmeal with milk instead of water or if you add cream, sugar or fruit to the cooked oats, the nutrition values will change accordingly.
Considerations
When you're striving to follow a healthy diet, one of the most important factors to consider is variety. Oatmeal provides a balance of carbohydrates, fat and protein, so it's a healthy choice at any time of the day, but you can make it a more balanced dinner by serving it with fruit or vegetables and skim milk or nonfat yogurt for an extra boost of protein that you might normally get with meat.