Ramen is a simple dish made up of noodles and broth -- sometimes vegetables and meat as well. If you have to avoid gluten, noodles are probably something you tend to overlook in general. You don't have to, though. While many types of ramen noodles are made with wheat flour, some aren't. You'll have to do a little investigating and read the package carefully to find out for sure.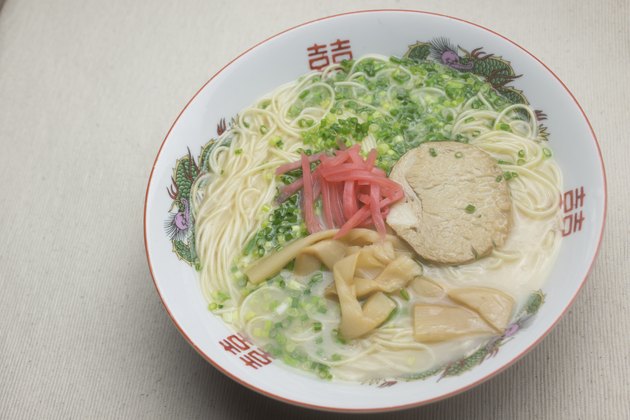 Wheat vs. Rice
If you're gluten-intolerant or have celiac disease, you'll have to avoid anything made with barley, rye, wheat or derivatives of these grains. Many of the ramen noodles you find at the grocer are made with wheat flour, meaning they're not suitable for your diet. However, several food manufacturers produce ramen noodles made from rice flour. Because rice is naturally gluten-free, these types of ramen noodles are typically safe, though you'll still need to check the label. When you dine out, ask your server if the restaurant offers rice ramen noodles.
Seasoning Details
Packaged ramen noodles usually come with a packet of beef, rice, shrimp or other flavorings. Even gluten-free rice noodles often come with a seasoning mixture that isn't necessarily gluten-free. The added flavoring or coloring ingredients could be contaminated with gluten, which happens during manufacturing in a plant where grains are also processed. Before sprinkling that spice pouch into your soup, check to ensure that it's gluten-free.
Gluten-Free Labeling
When you see "gluten-free" or "no gluten" on a package, it means the food manufacturer takes the time to ensure that the final product truly has no gluten. These phrases are strictly regulated by the U.S. Food and Drug Administration. For a food producer to describe a product as "gluten-free," the item has to have less than 20 parts per million of gluten. If it doesn't or if the manufacturer chooses not to have the food evaluated, it cannot label the product "gluten-free."
Details on Contamination
Gluten cross-contamination can happen everywhere. When you go out to eat, if you order rice ramen noodles, the final dish can have gluten. For example, if a cook grabs a handful of wheat noodles, then grabs a handful of your rice noodles without changing his gloves, your dish becomes contaminated. Let your server know that you cannot have gluten, even if the menu clearly states that the item is gluten-free. This scenario can also happen if a friend prepares your meal, so be cautious. Otherwise if you're highly sensitive, that trace amount of gluten could leave you feeling gassy and bloated.