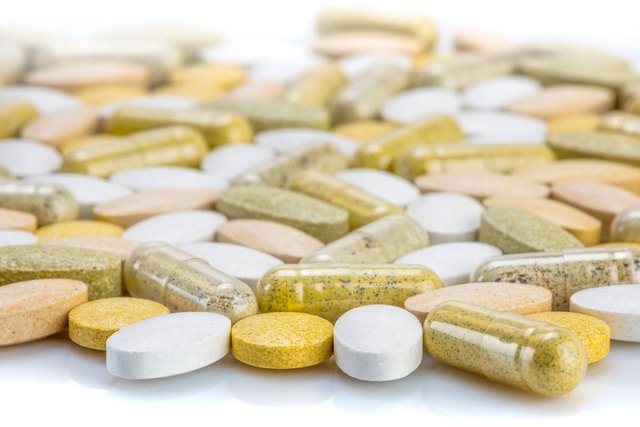 Not all vitamins and supplements are beneficial for everyone, and they can't take the place of eating a healthy, balanced diet. For certain groups of people, however, taking amino acids or vitamin supplements may improve overall health, help prevent disease and enhance the results of following a regular exercise plan.
Vitamin Benefits
Most Americans don't have to worry about serious nutrient deficiencies. Even if they don't eat enough fresh, whole foods, they may get vitamins and minerals from fortified, processed foods that are adequate enough to prevent deficiencies. The University of Maryland Medical Center recommends certain vitamins for pregnant women to prevent birth defects, for smokers to aid healthy nutrient absorption, for elderly or chronically ill individuals who do not eat balanced meals and for people following extremely low-calorie diets. Vegans may also need to supplement their diets with specific vitamins and minerals, particularly vitamin B12.
Amino Acid Benefits
Amino acids provide a separate set of benefits from vitamin supplements. All proteins are made up of amino acids, so it's possible and preferable to get them from whole food sources, such as lean poultry, lean red meats, dairy products, eggs, soy or other plant-based proteins. Getting high-quality amino acids in your diet, through whole foods or supplements, helps you maintain lean muscle mass, build more muscle if you are active and keep all of your organs and tissues healthy and functional. For people who exercise regularly, amino acid supplements may also encourage muscle strength and power gains, better body composition and greater resistance to fatigue.
Getting Your Nutrients
Harvard University nutrition experts recommend always getting your vitamins, minerals and nutrients through whole foods in a balanced diet, as they provide higher-quality nutrition than supplements. If you are healthy and regularly eat foods from all major food groups, you likely don't need supplements. You may require only a vitamin D supplement, which can improve your overall health. Even for people who are not deficient in D, taking regular vitamin D supplements may help prevent colon and breast cancer and other chronic diseases and may reduce falls in elderly people.
Varied Results
Not all supplements are created equally and provide the same nutrient quality. The U.S. Food and Drug Administration does not regulate dietary supplements, so manufacturers are responsible for the quality standards of their own products. In 2013, a group of medical professionals published a research review in the "Annals of Internal Medicine" asserting that few, if any, vitamin and mineral supplements had reliable and proven benefits and that select supplements may even be harmful, including vitamin E, vitamin A and beta-carotene. Before you begin taking any vitamin or supplement, talk to your doctor.