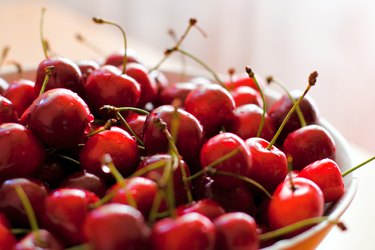 Keeping your blood sugar within a healthy range is key to managing diabetes, and part of that is monitoring your carbohydrate intake. And while the American Diabetes Association (ADA) encourages eating fruits as part of a healthy diet, they can be high in carbs. Which is why you might wonder: Are cherries good for diabetics?
The short answer is yes. "Whenever I talk with patients about their diet, I tell them that really there is no fruit that they cannot eat," says Milay Lam, MD, a board-certified endocrinologist at Meritus Health.
But as with any carb-rich food, it's important to be mindful of portion size.
Here's what to keep in mind about cherries and diabetes.
A Note on Language
Here at LIVESTRONG.com, we carefully consider language surrounding health status. For the most part, we use person-first language, such as "person with diabetes" instead of "diabetic." This language is typically considered neutral, respectful and free from stigma, which in turn imparts hope and fosters collaboration between people and their doctors, according to the ADA. This will be the language used moving forward.
Like all fruits, cherries contain natural sugars. This kind of sugar is better than added sugar (the type added to foods during the manufacturing process), but it's still possible to overdo it when you have diabetes.
The concentration of sugar in cherries depends on the variety and ripeness. It should be no surprise that sweeter varieties of cherries have a higher concentration of sugar than more tart varieties. For example, a cup of fresh sweet cherries contains approximately 20 grams of sugars, compared to 13 grams in sour cherries, per the USDA.
Below is a chart comparing the amount of sugar in different types of cherries, but keep in mind that it's really the carb content you should be concerned with if you have diabetes (more on that below).
Types of Cherries and Their Sugar Content
| Cherry Type | Sugar Content |
| --- | --- |
| Maraschino cherries | 2 grams per cherry |
| Sweet cherries | 20 grams per cup (18 with pits) |
| Black cherries | 18 grams per cup (with pits) |
| Sour cherries | 13 grams per cup (9 with pits) |
How Many Carbs Are in Cherries?
In addition to sugar, people living with diabetes also need to stay aware of the amount of carbohydrates they are consuming. Dr. Lam explains that depending on the type of cherry you are eating, it will have a certain amount of carbohydrates.
Types of Cherries and Their Carbohydrate Content
| Cherry Type | Carb Content |
| --- | --- |
| Maraschino cherries | 2 grams per cherry |
| Sweet cherries | 25 grams per cup (22 with pits) |
| Black cherries | 22 grams per cup (with pits) |
| Sour cherries | 19 grams per cup (13 with pits) |
What Is a Serving Size of Cherries?
Dr. Lam says a serving of sweet, black or sour cherries is about one cup, or approximately 20 cherries with pits. "I tell my patients to count them out and put them in a cup. Limit what you eat to that portion," she says.
Note that this isn't the case for maraschino cherries, which have added sugars. The suggested serving size for maraschino cherries is one cherry.
Glycemic Index of Cherries
The glycemic index (GI) reflects the effect of a carbohydrate-containing food on blood sugar levels, according to the Harvard T.H. Chan School of Public Health. The higher the GI value of a food, the more it tends to raise the blood sugar level.
According to the British Diabetic Association, cherries have a low glycemic index, making them less likely to significantly raise blood sugar levels. Of course this also depends on the type of cherry and whether they're eaten in appropriate portion sizes.
"Fresh fruit should be eaten in certain amounts, limiting the amount of carbs you eat," Dr. Lam says, adding that it's better to choose fresh cherries over cherry juice, dried fruit or desserts like cherry pie, all of which likely contain added sugars.
Tip
Pairing cherries (or any fruit) with another food containing protein or fat (think: Greek yogurt, almonds) will help lessen their glycemic impact.
Cherries contain a variety of healthful nutrients, per Dr. Lam. They are rich in vitamin C, making them a good option if you're looking for an alternative to citrus fruits. Cherries are also a good source of vitamin A and fiber.
The sweet variety of cherries provides significant amounts of potassium, according to the USDA. There are 342 grams of potassium in one cup of sweet cherries. Other minerals found in cherries (in smaller amounts) include:
Phosphorus
Calcium
Magnesium
Iron
Cherries also contain antioxidants that can have anti-inflammatory properties, improve blood sugar levels and protect your heart, per the Cleveland Clinic. Antioxidant-rich foods are particularly good dietary choices for people living with diabetes.
Do Cherries Have Health Benefits for People With Diabetes?
The health benefits of cherries for people with diabetes all comes down to the portion size. A serving of cherries (which, again, is about a cup, or approximately 20 cherries) can provide vitamins, minerals and antioxidants that can have a positive effect on blood sugar levels.
According to the Cleveland Clinic, the fiber found in fresh cherries slows down blood sugar spikes. What's more, in a March 2018 ‌Nutrients‌ review, researchers found strong evidence that cherries can contribute to reduced inflammation, lower blood pressure and lower oxidative stress.
As long as cherries haven't been canned and doused in sugar, they are a beneficial food for people with diabetes to be enjoyed in moderation.
Fresh cherries are a healthy food with several benefits for people with diabetes, so long as you pay attention to serving size. They should be eaten in moderation, and the type of cherry should be chosen wisely. Fresh is best, while canned and maraschino cherries should be limited or avoided.
"Patients with diabetes shouldn't be restricted," Dr. Lam says. "It's all about portions, even with candy. What's important is that we don't overdo it."