Oatmeal can be part of a healthy plan to gain weight, and it also works just as well as part of a weight loss diet. It sounds contradictory, but it's true. As long as you don't add sugary sweeteners, a bowl of oatmeal provides fiber and whole-grain carbs for energy without breaking the calorie budget. At the same time, when you pack in more calories and protein in the form of hearty toppings, oatmeal becomes a meal or snack that supports weight gain.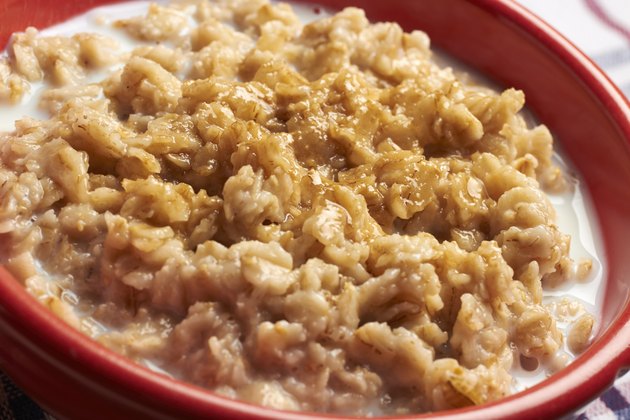 Calories Determine Weight Gain vs. Loss
Whether you want to lose or gain weight, the total of calories in versus calories out determines your success. It takes 3,500 extra calories to gain 1 pound; conversely consuming 3,500 calories less than you use results in a 1-pound loss. For both goals, long-term success is best achieved by gaining or losing at a slow steady rate of about 1 pound weekly, which you'll accomplish by adjusting your current caloric intake by 500 calories daily.
Oatmeal works well for either goal because 1 cup of cooked oatmeal has 166 calories. If you want to lose weight, you can add 1/2 cup of low-fat vanilla yogurt for sweetness and end up with a 270-calorie breakfast. This fits most weight-loss menus unless you follow a very low-calorie diet that calls for fewer than 1,200 calories daily. On the flip side, the toppings you choose can add up to a bowl of oatmeal in the 700-calorie range. That's a good start when you plan to gain weight, but the big jump in calories also shows how a healthy bowl of cereal with calorie-dense mix-ins can result in unwanted pounds.
Oatmeal Works for Weight Loss, Too
If you love oatmeal but need to lose weight, you don't have to take it off the menu. Oatmeal is a good source of soluble fiber, and people who consume more fiber generally have less body fat, reported the Journal of Nutrition in July 2012. As soluble fiber absorbs water, it expands in your stomach and makes you feel full, so it's easier to eat less. Fiber also slows down the movement of food through the digestive tract, which means you feel full longer.
Another benefit of soluble fiber is that it prevents a spike in blood sugar after you finish eating. When insulin is released to return high blood glucose back to normal, sugar levels sometimes swing in the opposite direction. Then you end up with a dip in blood sugar, which makes you feel hungry and may trigger overeating.
Conserve calories by keeping oatmeal toppings to a minimum -- even those that are healthy such as nuts and yogurt. Avoid toppings that are nothing but added sugar, including honey, maple syrup and brown sugar. To limit added sugar, buy plain oats rather than flavored varieties. A cup of plain oats has barely 1 gram of natural sugar, compared to 20 grams of added sugar in a cup of instant oats with raisins and spice.
Use Oatmeal to Gain Weight
Oatmeal makes a good breakfast, but it will do a better job of helping you gain weight if you use it as a snack. Its versatility lets you use it for several smaller snacks or as one bowl that significantly boosts calories with multiple healthy toppings. One-half cup of dried cherries, dried blueberries or dried pears contains 266, 254 and 236 calories, respectively. An ounce of most nuts and seeds contributes 160 to 200 calories, while 1 ounce of dark chocolate adds 167 calories. Adding one serving of each -- dried fruit, nuts and dark chocolate -- creates a bowl of oatmeal with nearly 800 calories.
Another way to kick up the calories is to top oatmeal with yogurt or whole milk mixed with your favorite flavor of protein powder or a weight-gainer powder. These powders can add a lot of calories, protein and carbs, but you'll need to compare products to find one that's best for your goals, because their ingredients vary. For example, one mass gainer contains 1,300 calories, 52 grams of protein and 252 grams of carbohydrates in a serving. By comparison, a brand of soy-based protein powder has 170 calories, 20 grams of protein and 19 grams of carbs per serving. While these supplements are a convenient way to add a lot of calories, they're processed products that lack the health benefits of whole foods. Anyone with certain health issues, such as kidney problems, shouldn't use weight gainers without a doctor's approval.
Make the Most of Protein
Even if you're not a bodybuilder, increasing lean muscle tissue with strength training goes hand-in-hand with consuming more calories when the goal is weight gain. Oatmeal provides more protein than you may realize, with 6 grams of protein in a 1-cup serving. If you top it with a tablespoon of peanut butter or an ounce of nuts and 1/2 cup of milk, you'll more than double the total protein. The milk also supplies all the amino acids your body needs. For optimum muscle synthesis, consume 0.7 to 0.8 grams of protein per pound of body weight.
When you use oatmeal for snacks, you'll maximize the effect of protein on muscles. Getting protein throughout the day promotes muscle protein synthesis better than eating most of your protein at supper, reported the Journal of Nutrition in June 2014. You may even be able to synthesize more muscle as you sleep if you have a protein-rich snack right before going to bed, especially if you follow an exercise regimen, according to a report in Medicine and Science in Sports and Exercise in August 2014. The participants in this study ingested casein -- which is a dairy protein -- before going to sleep, so you may get better results by adding milk to your oatmeal.