Several short workouts throughout the day is proven to be just as effective as one long duration workout, according to the Centers for Disease Control and Prevention. For many there is just not enough time in a day to workout for 30 to 60 minutes straight. While three to six, 10-minute sessions performed here and there can be a more realistic expectation in your busy schedule.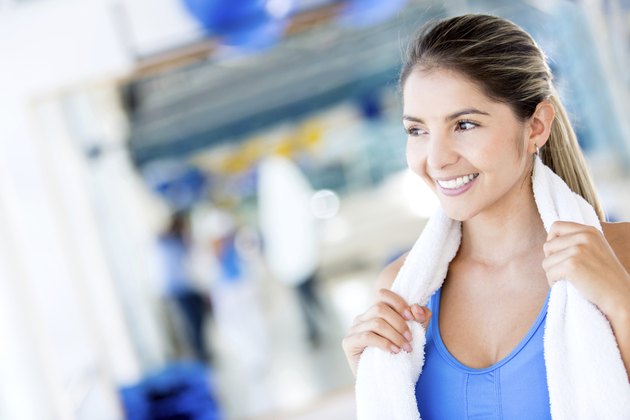 Health Benefits
To receive the health benefits associated with physical activity the duration of one particular long workout is not considered to be more or less beneficial than several shorter duration workouts. However, it is important to accumulate 150 to 300 minutes of physical activity a week at a moderate intensity in order to see important health benefits, according to the CDC. These health benefits include weight loss, stronger bones and muscles, a lower blood pressure and cholesterol level, a reduced risk of cardiovascular disease, a lower risk of diabetes, a reduced risk of metabolic disorders and obesity, a reduced risk of some cancers, and a boost to your mood and energy levels. Therefore, perform at least two hours and 30 minutes of physical activity weekly and you can increase your chances of living longer.
One Long Workout
For those of you who can find enough time in a day to fit in one longer workout — about 30 to 60 minutes in duration on most days of the week — then go for it and get it out of the way in one long session. If your goal is to lose weight and keep it off you will want to aim for completing about 300 minutes of exercise weekly, according to the CDC. Keep in mind that the intensity of your workout needs to be challenging, but not so intense that you do not have the energy to exercise for the entire duration. When performing exercise in one long session take as few breaks as possible and when necessary make your break as short as possible. As you build up both endurance and strength you might find interval training to be successful. Interval training alternates back and forth between levels of vigorous intensity and moderate intensity for the length of the workout. The moderately intense levels act as a short recovery, allowing you to tackle the more vigorous levels with a slight increase in energy. Perform aerobic activity on most days of the week and at least two days of strength training a week.
Several Short Workouts
Contrary to what you might think, putting a little time and effort here and there into exercising is enough when you look at the larger picture of health and fitness. The more vigorous your exercise, the more calories you will burn, even if you increase intensity for just a few minutes at a time. Whether you aim for multiple 10-minute sessions or a couple 30-minute workout sessions throughout the day. You can benefit from every moment of exercise. Just remember to accumulate at least 150 minutes of physical activity a week. Your short workouts should always be, at the very least, segments of 10 minutes. For instance, during your lunch break, by waking up 15 minutes early or even when you are watching television you can perform a short workout with exercises like jump squats, jumping jacks, lunges, pushups and crunches. Also, remember to incorporate both aerobic and resistance training into your weekly physical activity.
Calories Burned
According to the CDC, one minute of vigorous-intensity activity is about the same as two minutes of moderate-intensity activity. Therefore, don't just go through the motions of exercise, but instead push your body as you give your maximal effort in order to see maximal results. You need to burn 3,500 calories weekly to lose 1 lb. a week. So if you cut out 500 calories from your diet each day, you can lose about 1 lb. a week. To see the largest amount of weight loss per week, exercise and cut calories.