If your arms keep waving long after you've stopped, you'll do almost anything to squelch their enthusiasm. The weight-room floor is a good place to start to tone the muscles of the arm, but dumbbells alone won't melt the fat that's keep you from going sleeveless. To gain lean, taut arms, you'll need a dietary and cardio intervention as well.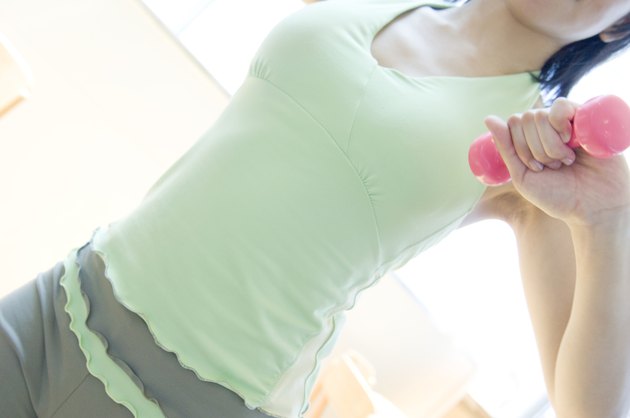 Spot On
You simply cannot pick a spot on your body and work hard to reduce fat there. Your patterns of fat loss depend on genetics, hormones and age. Men, for example, tend to have trouble reducing fat at their belly, while women traditionally store more fat in the hips and thighs. Arms can be another trouble spot that are resistant to attempts at fat loss, but that doesn't mean you should give up.
Lose the Fat
Losing fat is not simple, but it can be done. In the most basic of equations, you first have to create a calorie deficit -- meaning you consume fewer calories than you burn. You do this by eating smaller portions and trading foods with a high-calorie density and minimal nutrition, such as sweets, soda and refined grains, for nutritious, low-calorie dense foods, such as lean proteins and leafy greens. Cardiovascular activity, such as brisk walking, jogging, swimming, aerobic dance and cycling, boosts your calorie burn daily. Fitting in 250 minutes of this type of cardio, or about 50 minutes per day for five days per week, can help you drop pounds and fat, notes the American College of Sports Medicine. Once steady-paced cardio is manageable, add in interval training that consists of one to two minutes of very high-intensity work followed by one to two minutes of low-intensity work for the duration of your session. This approach stimulates your hormones and muscles to burn more fat all over, including your arms, notes a paper published in a 2011 issue of the "Journal of Obesity."
Now the Dumbbells
Don't put down the dumbbells just yet, though. Lifting weights while you trim your calories and boost your cardio prevents extreme loss of muscle. You want muscle on your arms so they stay taut and don't feel soft and flacid. Keeping muscle on your frame also helps boost your metabolism as you lose weight. Muscle is more metabolically active than fat, meaning it takes more work, or energy from calories, to maintain.
Don't Stop at Your Arms
Although your arms are a trouble zone, don't concentrate all your dumbbell training there. A total-body weight-training plan stimulates growth hormone that helps muscle build and fat burn. At least twice per week, use the dumbbells to do exercises that hit every major muscle group, including your legs, hips, abdominals, back, chest, shoulders and arms. Pass over the mini weights too. You'll want to use dumbbells that feel heavy by the last one or two repetitions in a set of eight to 12. When starting out, one set of an exercise for each body part is sufficient at your workouts. Over time, increase your weight when 12 reps feels easy and add another set or two to reap greater gains. You might also add a third day of weight training to your routine -- but remember to leave 48 hours between these sessions so your muscles can recover.