Edema, also called dropsy, fluid retention or water retention, refers to the swelling that takes place in your body due to a build up of fluid. Edema can be caused by a variety of factors, ranging from environmental, to behavioral to dietary. While edema can often be treated at home by changing your diet and consuming more fluids, cases of severe swelling should be checked by a doctor.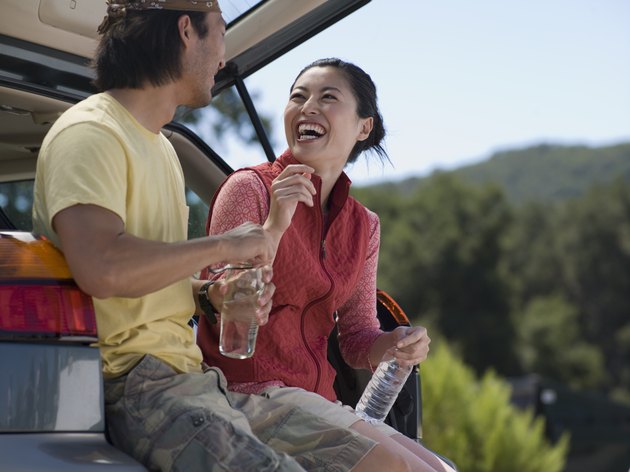 Edema
Edema most commonly presents as swelling in the legs, ankles and feet, as well as the fingers and face. In some cases, there can also be a shortness of breath, bloating in the belly and aches and pains. Edema can be cause from a diet high in sodium, as well as exposure to hot temperatures and insufficient hydration during strenuous activity. It can also result from sitting or standing for long periods of time, as well as hormone fluctuations, allergies and some medications.
Fluid Consumption
Edema can usually be treated at home by consuming more fluid. While this may sound counterintuitive, consuming more fluid tells your body there is a reduced risk of dehydration, so it releases the fluid in the tissues it is holding on to. The recommended intake of fluids is six to eight 8 ounce glasses of fluids, ideally water, per day. To reduce the risk of continued water imbalance in your system, avoid choosing fluids that are high in sodium, such as high-salt vegetable juices, as well as alcohol and those containing caffeine, as caffeine is a natural diuretic.
Other Dietary Changes
The University of Maryland Medical Center recommends avoiding high salt and refined foods, as well as consuming fewer red meats, which are higher in saturated fats than lean meats and fish. Including foods high in B vitamins as well as iron, such as seaweed and leafy green vegetables, can also reduce the effects of edema. Including foods naturally high in antioxidants, such as blueberries and cherries can also help.
Other Treatment Options
In addition to dietary changes, you can also try compression bandages on your legs or pressure sleeves to try and force your body to reabsorb the fluid that has build up. In cases of swelling in your lower body, try lying down with your feet and legs propped above your heart level, to encourage blood flow away from your lower extremities. Regular exercise as well as massage may also prove beneficial.