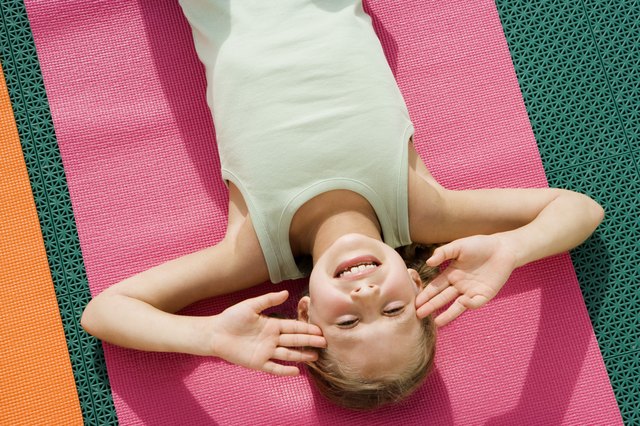 In order for an 11-year-old to get six-pack abs, he will need a combination of cardio activity, strength-training, a healthful diet and, most importantly, certain hormonal conditions need to exist that are often not present in 11-year-old boys.
Calories
Eating excess calories can prevent you from achieving six-pack abs. At 11-years-old, you're probably still prepubescent so your calorie intake is about 2,500 to 3,000 calories per day, according to KidsHealth.org. Excess fat on your stomach will keep you from having six-pack abs, so you need to burn more calories than you consume. Keeping track of the amount of calories you consume from food and drinks will give you a better idea of how many calories you're consuming daily. If you eat more calories than your body burns, the calories will be stored as fat and will cover your six-pack. This does not mean eat less food, but eat more healthful foods from your daily food groups so you continue to get your required minerals and vitamins while your body is growing. The majority of your diet should consist of fruits, vegetables, whole grains, lean meats and low-fat dairy.
Muscles
The muscles responsible for the six-pack appearance are the rectus abdominis. If you have low body fat, these muscles will be visible. However, if you have excess body fat, these muscles will be covered and you will need to lose the fat in order for a six pack to be revealed. If you have not started puberty, your body lacks the sex hormones that allow you to build muscles, according to the Palo Alto Medical Foundation. The six pack will still be visible, but you will not be able to increase its size until puberty begins.
Strength-training
Once puberty starts, you can perform targeted strength-training exercises. Doing abdominal exercises such as crunches and reverse crunches every other day can help tone your midsection. If you're performing exercises effectively, your muscles will tire in less than 20 repetitions, according to Simple Fitness Solutions. No abdominal exercise equipment will spot reduce your waist size. Strength-training equipment will burn fat from all areas of your body equally.
Aerobic Activity
At 11-years-old, you should be physical active a minimum of one hour per day, but preferably be active several hours per day. The more vigorous the intensity of your aerobic activity, the more fat you will be able to lose from your abs. Riding your bike, participating in sports, swimming laps and hiking are all ways you can burn calories and reduce fat from your abdominal region. Even performing household chores each day will allow you to burn calories.