Cashews are legumes and contain an abundance of nutritional benefits, including all three macronutrients -- carbohydrates, protein and fat -- and numerous vitamins and minerals. As their name suggests, salted cashews contain more sodium than raw cashews, which can be a nutritional disadvantage. When consumed in moderation, salted cashews can help you meet several of your daily nutritional needs.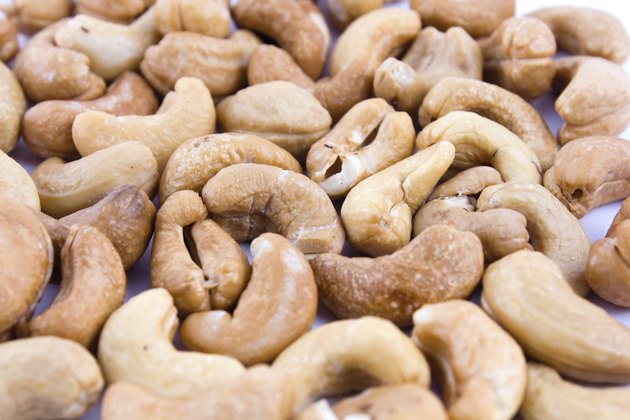 Healthy Fats
Salted cashews contain a significant amount of fat, though the majority is healthy unsaturated fat. Of the 13.14 grams of fat in a 1-ounce serving of salted cashews, 7.74 grams exist in the form of monounsaturated fats, while 2.22 grams are polyunsaturated fats. Both monounsaturated and polyunsaturated fats can help reduce unhealthy cholesterol in the bloodstream and improve cardiovascular health. Polyunsaturated fats can help regulate blood glucose levels and reduce the risk of type 2 diabetes as well, according to the American Heart Association.
Carbohydrates and Protein
Salted cashews are naturally rich in both carbohydrates and protein. Your body needs carbohydrates for energy, while protein helps synthesize and repair cellular tissue. A 2,000-calorie diet calls for about 225 grams of carbohydrates and 50 grams of protein each day. A 1-ounce serving of salted cashews contains 9.27 grams of carbohydrates and 4.34 grams of protein, or about 4 and 9 percent the typical adult's minimum daily needs for these macronutrients, respectively.
Minerals
Minerals are micronutrients, or inorganic substances that the body needs in small amounts to regulate all of its cellular and metabolic functions. The body cannot manufacture minerals, so you must meet your minerals needs through consuming a variety of foods. Salted cashews contain 10 minerals. Salted cashews are particularly high in magnesium and copper. Magnesium helps regulate muscular contractions, certain bodily enzymes, energy transport and the production of protein, while copper assists with the formation of red blood cells. Salted cashews also contain small-to-moderate amounts of calcium, iron, phosphorous, potassium, sodium, zinc and selenium.
Vitamins
Similar to minerals, vitamins are micronutrients that the body generally cannot produce on its own. Salted cashews are not particularly high in any one vitamin but contain trace amounts of B vitamins, vitamin E and vitamin K. B vitamins help convert carbohydrates into usable energy. Vitamin E is an antioxidant that helps prevent cellular damage, and vitamin K helps with the formation of blood clots.
Disadvantages
While salted cashews contain a number of beneficial nutrients, they contain a moderate amount of sodium and saturated fat. Sodium is a mineral that can help promote hydration and regulate central nervous system function, but excess sodium can cause high blood pressure, increasing the risk of cardiovascular disease. Saturated fat can increase blood cholesterol and promote cardiovascular problems as well. The American Heart Association recommends that adults limit sodium and saturated fat intake to 1,500 milligrams and 7 percent of your total caloric intake each day, respectively. A 1-ounce serving of salted cashews contains 181 milligrams of sodium and 2.6 grams of saturated fats, or about 16 percent of the AHA's recommended limit for a 2,000-calorie diet.